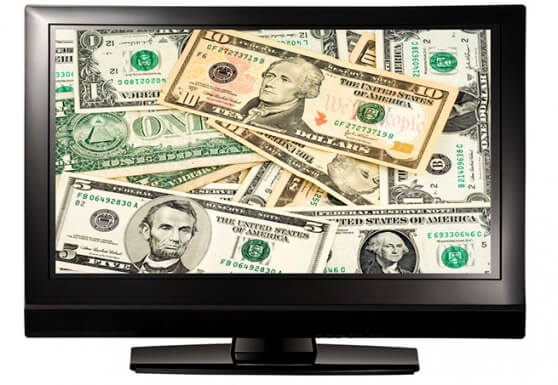 In the past, the Pay TV  industry attempted to push the media narrative that "cord cutting" isn't really a thing to worry about. They have pretended that "cutting the cord" (a.k.a cancelling their pay TV subscription) it's a passing fad that will eventually just go away.
However, anyone objectively looking at Neilsen data can see that people are still leaving cable TV in droves.  According to their "Total Audience Report for Q1 2016" which you can download here, over 17.2 million households used broadcast TV and/or broadband  watch TV without having a cable or satellite TV subscription in the first quarter of 2016.
By comparison, in the first quarter of 2015 that number was 15.6 million households. That means the number of households that watch TV without cable increased by 1.6 million in just 1 year.
Now any cable TV executive would probably spin some tale about how most of those households were Millennials who never used cable or some other  rubbish to put advertisers' minds at ease. However,  a deeper look into the numbers in the report show the decline of households with cable or satellite declined by nearly 1.6 million over that same time.  That's a lot of customers to lose in a single year.
Of the 17.2 million without a Pay TV subscription, 3.9 million had broadband only, 7.3 million had a combination of broadband and over the air (OTA) TV, while 6 million only used broadcast OTA.
Is Mainstream Media on The Take?
Judging by the number of "news" articles trashing cord cutting I've seen lately, it seems that the Pay TV industry is finally starting to worry about this trend. It's quite obvious that these articles are attempting to push a narrative.  Take this New York Times piece. The author calls the article "The Downside of Cord-Cutting", but only examines Sling TV and Playstation Vue.
The author fails to even consider TV antennas, or the numerous other ways to watch TV wihtout cable. He simply examines 2 live streaming services and concludes cable is better. It's a travesty of journalism, and shocking considering it appeared in the New York Times.
Luke at Cordcutternews.com had a great post rebutting the claims of the New York Times hit piece. The biggest of which being that cord cutters want something similar cable TV.  While some are looking for an exact replica, many think the whole cable model stinks and are looking for content   a la cart,  on-demand, and without a contract commitment,. Those qualities are the core to most cord cutting solutions.
The Times piece isn't the only recent  cord cutting hatchet job. Back in May, Evan Horowitz wrote an article completely detached from reality for the Boston Globe. He went as far to call the 17.2 million cord cutters "mythical."  He goes on to conclude that little savings can come from cord cutting because the price of internet access isn't that much different than the price of a TV bundle.
He was unfortunately derelict in his journalistic duties, failing to account for the myriad a fees that come along with the advertised promo price of the Pay TV bundle. He also assumes you need 75 Mbps to cut the cord, which is ludicrous considering cable quality HD video can stream at about 5 Mbps.  He doesn't even attempt to lead The Globe's readers even close to the truth when he goes on to mention:
Opting for slower Internet can bring the cost down to $40 or $45 per month, but with uncertain consequences for your ability to stream video to multiple devices.
In essence, he is using fear of the unknown to convince his readers to stay with Cable TV.  If they only knew that they could get free HD broadcast TV with an antenna, and cherry pick the shows they want to watch on cable through Amazon or iTunes.
Pay TV is in Trouble
I'm not sure what's behind the recent increase in poorly conceived cable TV cheerleading pieces showing up in what are otherwise respected news outlets. My hunch is 17.2 million households without a Pay TV subscription may have something to do with it. As people wake up to the fact that an internet only plan, a TV antenna, and a streaming service is much cheaper than the hidden price of their bundle the number of people that drop pay-TV will only increase.
I suspect that we are yet to see the real flood of Pay TV consumers cut the cord. Many are still hesitant to cut due to the expense of their internet vs the Pay TV advertised bundle price.  While I have shown in the past that these deals are a bait and switch, they still do a good job of tricking many into staying with their pay TV provider. Once a company outside of Pay-TV starts delivering affordable internet to U.S. citizens, the real deluge begins for this outdated industry.
Need More Information?
If this article didn't answer your specific question, head over to our Home Page! It will guide you to affordable internet providers, streaming services to meet your needs, information on antennas, and many more tools and resources to help you save money on TV and Internet access.
For tips and tricks on cutting the cord and other tech topics be sure to join our Facebook Page.
Join Millions of Cord Cutters
Disclosure: Grounded Reason is supported by a small commission for purchases made through some product links on this website. We do not accept compensation from companies attempting to sway our review of products.