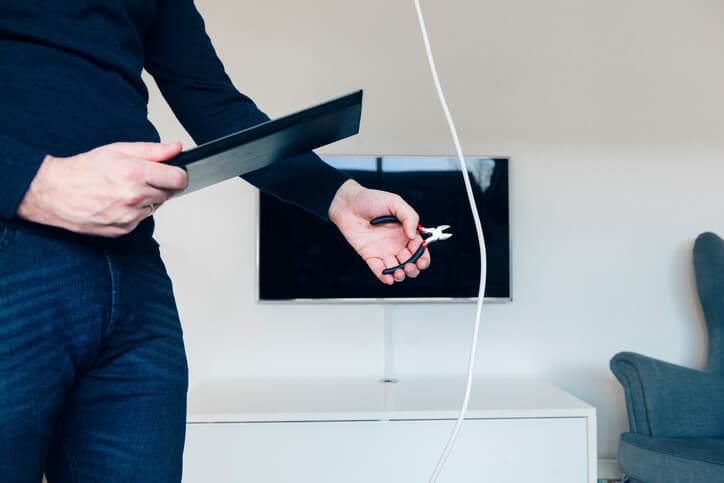 Recently, there has been a surge in articles online spreading the myth that cord cutting isn't really happening. For example, we recently highlighted Christine Wang's piece for CNBC on a recent podcast episode. In the article she states:
Despite legacy media's anxieties about cord-cutting, data suggests that the phenomenon isn't nearly as significant as cable providers make it out to be.
On the podcast I mentioned that I contacted the company that put together this "data" mentioned in the article. You won't be surprised to know, I didn't find much evidence backing their claim. However, I did find other data in previous studies the company did that completely debunked their current claim.
Then there was this other article in USA Today claiming that cutting the cord costs as much as cable TV. Of course, the writer assumes you have to buy every cord cutting service on the market to make his point.
Of course, these stories are patently false. If you really want to know how people are watching TV shows, Nielsen releases quarterly reports that explain just that. Their data show viewers not only dropping Pay TV like a bad habit, but households without pay TV have nearly doubled in four years.
Cord Cutting Statistics
To disprove this dumpster fire of journalism, I compiled Nielsen data from 2012-2016. This information is found in their Total Audience Report and Cross Platform Reports. I compiled the data in the table below.
| (Households in 1,000s) | Q4-12 | Q4-13 | Q4-14 | Q4-15 | Q4-16 | YoY 15-16 | Since 2012 |
| --- | --- | --- | --- | --- | --- | --- | --- |
| Pay TV Households | 102,364 | 102,767 | 100,769 | 99,440 | 98,726 | -714 | -3,638 |
| Without Pay TV Households | 11,277 | 12,559 | 15,301 | 16,960 | 19,676 | +2,716 | +8,399 |
| Nielsen TV Households | 113,641 | 115,326 | 116,070 | 116,400 | 118,402 | +2,002 | +4,761 |
| Without Pay TV Percent | 9.92% | 10.89% | 13.18% | 14.57% | 16.62% | +14.05% | +67.46% |
I looked at the 4th quarter data from 2012-2016 and the shift away from pay TV is obvious. The number of households without pay TV increased by 2.7 million between 2015 and 2016. This isn't an isolated incident. From 2012 to 2016, the number of people without pay TV has increased by 8.4 million. The total number of households using pay tv alternatives by the end of 2016 hit a staggering 19.7 million.
This data highlights a problem on two fronts for pay TV. First, they have lost over 3.6 million customers since 2012. Those are people that dropped cable and satellite TV. The other major problem for the industry is they're not gaining customer in new households either.
The number of households have increased by almost 5 million since the end of 2012. Considering the pay TV industry lost 3.6 million households over that same period, it looks like many young families see no value in pay TV. This is further highlighted by the increase in non pay TV households by 8.4 million.
Conclusion
Don't buy into the media narrative that cord cutting is a myth. Not only have non pay TV households increased by 67.46 over the past 4 years, but 3.6 million ditched their pay TV subscriptions. It looks like some in the media are calling this all wrong. The Nielsen data clearly shows the pay TV industry is loosing a two front war.
Need More Information?
If this article didn't answer your specific question, head over to our Home Page! It will guide you to affordable internet providers, streaming services to meet your needs, information on antennas, and many more tools and resources to help you save money on TV and Internet access.
For tips and tricks on cutting the cord and other tech topics be sure to join our Facebook Page.
Join Millions of Cord Cutters
Disclosure: Grounded Reason is supported by a small commission for purchases made through some product links on this website. We do not accept compensation from companies attempting to sway our review of products.