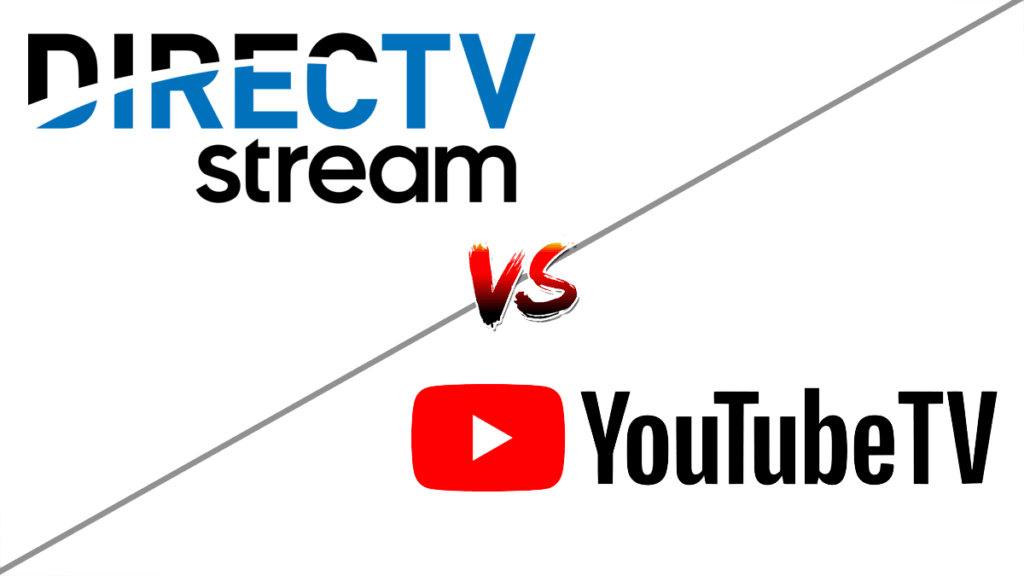 Here, we will compare DIRECTV STREAM and YouTube TV to see which is the better value. Both services offer free trials if you decide to try either after reading this comparison.
DIRECTV STREAM and YouTube TV Compared
YouTube TV and DIRECTV STREAM are both excellent solutions for streaming local networks and cable TV channels. However, both have very different strengths. We will look at the channel lineup, features, and price of both streaming services to see which one is better, depending on what you are looking for in a live TV Streaming service.
Channels
DIRECTV STREAM provides access to more channels when looking at both services. However, YouTube TV provides more channels when looking at comparably priced plans. YouTube TV provides most of its channels in its standard plan for $72.99 per month. DIRECTV STREAM's comparably priced "Entertainment" plan costs $79.99 per month doesn't include several channels found in the YouTubebase package like: ACC Network, BET Her, Big Ten Network, Bounce TV, CBS Sports Network, ESPNU, ESPNews, FS2, Game Show Network, Golf Channel, MLB Network, Nat Geo Wild, NBA TV, NHL Network, NFL Network, Nick Jr., NickToons, Oxygen, OWN, Travel Channel, TUDN, and the Weather Channel.
To get those channels on DIRECTV STREAM, you must upgrade to their "Choice" plan for $108.99/mo. And some channels like NHL Network are only on DIRECTV's Ultimate Plan for $119.99/mo. However, there are some channels on DIRECTV STREAM that you can't get with YouTube TV.
For example, DIRECTV STREAM offers every regional sports network (RSN) for the NHL, MLB, and NBA in all parts of the country in their Choice plan. YouTube TV only offers NBC Sports Bay Area, NBC Sports Boston, NBC Sports California, NBC Sports Chicago, NBC Sports Philadelphia, Monumental Sports Network, and SportsNet NY. If you have a team on a Bally Sports RSN or Altitude, you won't be able to watch them on YouTube TV. There are also channels that DIRECTV STREAM has you won't find anywhere on YouTube TV, like AXS TV, Bloomberg, C-Span, MLB Network, NHL Network, and Revolt.
Ultimately, If you need a regional sports network other than NBC Sports or a channel like MLB Network or NHL Network, then DIRECTV STREAM has better channel options for you. On the other hand, YouTube TV's base package beats DIRECTV STREAM's entry-level channel plan when considering the channels you get for the price you pay.
I will put a side-by-side list of channels at the end of this article.
Number of Streams
DIRECTV STREAM Stream allows you to stream on unlimited devices at once in the home and three outside the home. YouTube TV only allows three streams at once. YouTube TV will allow you to upgrade to unlimited screens at an additional cost of $9.99 per month with the YouTube, TV 4K upgrade. So if you have a large household and need to stream on more than three devices, then YouTube TV loses a bit of its pricing advantage.
Audio and Video
YouTube TV and DIRECTV STREAM both stream up to 1080 HD video resolution. However, remember that some channels won't stream at that rate. YouTube TV also offers a 4K video upgrade for an additional $9.99 per month, but the channel must support streaming at 4K resolution. DIRECTV STREAM does not offer a 4K option. Both streaming services provide audio in Dolby Digital 5.1 surround sound as long as the channel supports it.
Guide, DVR, and On-Demand
Both services include a cloud DVR at no added charge. Both services also allow you to record as many shows as you like. However, recordings are removed nine months after they were initially recorded. Both services also provide similar on-demand features. Basically, if the network makes the show available on demand, it will be available on both services. DIRECTV STREAM does hold the edge on YouTube TV on usability. The onscreen guide is very familiar to former cable TV users. Furthermore, there is a distinction between shows you record on DVR, and shows available on-demand. While this doesn't seem important, it does matter as you can fast-forward through ads on your DVR recordings, where you can't skip them when watching on-demand.
Which Is the Better Deal
YouTube TV's standard package is a better value at $72.99 per month compared to DIRECTV STREAM's Entertainment plan for $79.99 per month. However, if you need a regional sports network not owned by NBC, I recommend DIRECTV STREAM's Choice plan for $108.99 per month as you won't find those channels on YouTube TV.
YouTube TV is the better option over DIRECTV STREAM in most cases. Here is the decision tree I recommend when choosing between the two.
If you must have a regional sports network other than the NBC Sports RSNs, then you should go with DIRECTV STREAM.
If you are going to stream your live TV service to more than 3 TVs at the same time, then go with DIRECTV STREAM. They will allow you to stream up to unlimited streams at the same time.
If your situation doesn't reflect the previous 2 points, then YouTube TV is the better service and will save you money.
If you want to see an in-depth review of either service, please see my review of DIRECTV STREAM or my guide to YouTube TV.
Channel Comparison Table
The table below is a comparison of YouTube TV's base plan ($72.99/mo) and DIRECTV STREAM's Entertainment channel plan ($79.99/mo). The table shows the following:
✓ = The channel is available on the base\entertainment channel plan.
X = The streaming service doesn't carry the channel on any plan.
+$ = The channel is available on the service but in an upgraded plan.
| Channel | DIRECTV STREAM | YouTube TV |
| --- | --- | --- |
| ABC | ✓ | ✓ |
| ACC Network | +$ | ✓ |
| AMC | ✓ | ✓ |
| Animal Planet | ✓ | ✓ |
| AXS TV | ✓ | X |
| BBC America | ✓ | ✓ |
| BET | ✓ | ✓ |
| BET Her | +$ | ✓ |
| Big Ten Network | +$ | ✓ |
| Bloomberg | ✓ | X |
| Bounce TV | +$ | ✓ |
| Bravo | ✓ | ✓ |
| C-Span | ✓ | X |
| Cartoon Network | ✓ | ✓ |
| CBS | ✓ | ✓ |
| CBS Sports Network | +$ | ✓ |
| CMT | ✓ | ✓ |
| CNBC | ✓ | ✓ |
| CNN | ✓ | ✓ |
| Comedy Central | ✓ | ✓ |
| Discovery Channel | ✓ | ✓ |
| Disney Channel | ✓ | ✓ |
| Disney Junior | ✓ | ✓ |
| Disney XD | ✓ | ✓ |
| E! | ✓ | ✓ |
| ESPN | ✓ | ✓ |
| ESPN2 | ✓ | ✓ |
| ESPNews | +$ | ✓ |
| ESPNU | +$ | ✓ |
| Food Network | ✓ | ✓ |
| Fox | ✓ | ✓ |
| Fox Business | ✓ | ✓ |
| Fox News | ✓ | ✓ |
| Freeform | ✓ | ✓ |
| FS1 | ✓ | ✓ |
| FS2 | +$ | ✓ |
| FX | ✓ | ✓ |
| FXX | ✓ | ✓ |
| Galavisión | ✓ | ✓ |
| Game Show Network | +$ | ✓ |
| Golf Channel | +$ | ✓ |
| Hallmark Channel | ✓ | ✓ |
| Hallmark Movies & Mysteries | ✓ | ✓ |
| HGTV | ✓ | ✓ |
| HISTORY Channel | ✓ | ✓ |
| HLN | ✓ | ✓ |
| Home Shopping Network | ✓ | ✓ |
| IFC | ✓ | ✓ |
| Investigation Discovery | ✓ | ✓ |
| Ion TV | ✓ | ✓ |
| Lifetime | ✓ | ✓ |
| MLB Network | +$ | X |
| MotorTrend | ✓ | ✓ |
| MSNBC | ✓ | ✓ |
| MTV | ✓ | ✓ |
| MTV2 | ✓ | ✓ |
| Nat Geo Wild | +$ | ✓ |
| National Geographic | ✓ | ✓ |
| NBA TV | +$ | ✓ |
| NBC | ✓ | ✓ |
| NFL Network | +$ | ✓ |
| NHL Network | +$ | X |
| Nick Jr. | +$ | ✓ |
| Nickelodeon | ✓ | ✓ |
| NickToons | +$ | ✓ |
| OWN | +$ | ✓ |
| Oxygen | +$ | ✓ |
| Paramount Network | ✓ | ✓ |
| QVC | ✓ | ✓ |
| Reelz | ✓ | X |
| Revolt | ✓ | X |
| Sundance TV | ✓ | ✓ |
| Syfy | ✓ | ✓ |
| TBS | ✓ | ✓ |
| TCM | ✓ | ✓ |
| TeenNick | ✓ | ✓ |
| The CW | ✓ | ✓ |
| TLC | ✓ | ✓ |
| TNT | ✓ | ✓ |
| Travel Channel | +$ | ✓ |
| truTV | ✓ | ✓ |
| TUDN | +$ | ✓ |
| TV Land | ✓ | ✓ |
| Univision | ✓ | ✓ |
| USA | ✓ | ✓ |
| VH1 | ✓ | ✓ |
| Viceland | ✓ | ✓ |
| WE tv | ✓ | ✓ |
| Weather Channel | +$ | ✓ |
| Altitude | +$ | X |
| Space City Home Network | +$ | X |
| SportsNet Pittsburgh | +$ | X |
| Bally Sports Arizona | +$ | X |
| Bally Sports Detroit | +$ | X |
| Bally Sports Florida | +$ | X |
| Bally Sports Great Lakes | +$ | X |
| Bally Sports Indiana | +$ | X |
| Bally Sports Kansas City | +$ | X |
| Bally Sports Midwest | +$ | X |
| Bally Sports New Orleans | +$ | X |
| Bally Sports North | +$ | X |
| Bally Sports Ohio | +$ | X |
| Bally Sports Oklahoma | +$ | X |
| Bally Sports San Diego | +$ | X |
| Bally Sports SoCal | +$ | X |
| Bally Sports South | +$ | X |
| Bally Sports Southeast | +$ | X |
| Bally Sports Southwest | +$ | X |
| Bally Sports Sun | +$ | X |
| Bally Sports West | +$ | X |
| Bally Sports Wisconsin | +$ | X |
| Marquee Sports Network | +$ | X |
| The Mid-Atlantic Sports Network (MASN) | +$ | X |
| MSG Network | +$ | X |
| Monumental Sports Network | +$ | X |
| NBC Sports Bay Area | +$ | X |
| NBC Sports California | +$ | X |
| NBC Sports Chicago | +$ | X |
| New England Sports Network | +$ | X |
| Root Sports Northwest | +$ | X |
| Spectrum Sports | +$ | X |
| SportsNet New York | +$ | X |
| YES Network | +$ | X |