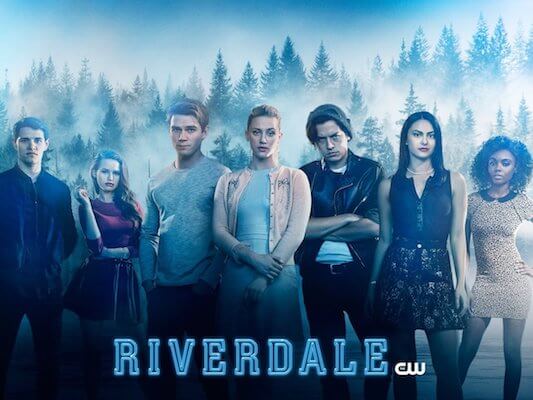 Archie comics may have been the gateway title that got pre-teen me to get a subscription box at my local comic store. Tailing in the wake of my older siblings, I the good-natured, wacky antics of Archie and his Riverdale pals (including spin-offs Jughead's Time Police, Betty & Veronica, and Veronica's Passport). Take those innocent, iconic characters, influenced even in the 1990s by their sock hop and soda fountain-era origins, and dump them into a David Lynch-ian world of murder and mayhem, and you have Riverdale, the addictive teen drama from the CW.
Riverdale features all the familiar characters from the 75-plus-year-old comic series, primarily the red-headed football star Archie Andrews (KJ Apa), his best friend Jughead Jones (Cole Sprouse), girl-next-door Betty Cooper (Lili Reinhart), and wealthy socialite Veronica Lodge (Camila Mendes). However, the teens' lives bear little resemblance to their original ink likenesses: Archie is much less innocent, Jughead's darker humor comes in the form the wry, philosophical commentary of a social outcast, and both Betty and Veronica have too many skeletons in their families' closets to keep track of.
They all live in a dark and stylish take on small-town secrets and mysteries. Murder? Check. Secret babies? Check. Stalkers, gangs, and mob ties? Check, check, and check. Plus the normal dose of teen angst, love triangles, and questionable choices recognizable from the likes of Dawson's Creek.
The end result? A trashy, culty, and obsessively fun teen drama that is in its third season and seems to be going strong. The show debuted as a mid-season addition to the CW in January 2017, gaining strong reviews and a fresh rating of 88% on Rotten Tomatoes for the season. A full 22-episode second season followed, maintaining the high ratings, and solidly landing an audience for its obsessive, self-aware, and eerie storytelling. The third season, which debuted October 10, 2018, already has a 93% fresh score and doesn't seem to be heading down anytime soon.
Part of the appeal of Riverdale is definitely the cast, led by a lot of strong young talent. Cole Sprouse as Jughead is perhaps the runaway fan favorite, and gets extra attention as the show's narrator, spinning Jughead's view of the darker happenings in the small town into and out of each episode. He and Lili Reinhardt, as a more complicated want-to-be good girl Betty, regularly lead the pack for recognition by Teen Choice and People's Choice voters.
However, the cast is also supported by a veritable who's who of 1990s teen stars as the adult generation, including Luke Perry (Beverly Hills 90210) as Archie's dad Fred Andrews; Skeet Ulrich (Scream, Jericho) as Jughead's dad FP Jones, and Mädchen Amick (Twin Peaks itself, all three iterations), as Betty's mom Alice Cooper.
The show was created by Roberto Aguirre-Sacasa, no stranger to teen shows or comics, having produced extensive episodes of Glee, Supergirl, and the new Netflix series from the Archie comics archive, Chilling Adventures of Sabrina. It is also produced by Greg Berlanti, long-time producer of such DC-based shows as The Flash, Legends of Tomorrow, Arrow, and Black Lightning. (The Archie Comics and DC Comics franchises have multiple partnerships and crossovers over the years.)
How to watch Riverdale without cable
Convinced to give it a shot? Riverdale makes a great binge show to catch up to the current season, and there are numerous ways to watch it. (For a more detailed rundown on outlets that carry CW programming, check out our previous post, Where to Watch the CW Online Without Cable.)
Catch up on Netflix
Seasons 1 and 2 of Riverdale are currently streaming on Netflix. Don't have the streaming service yet? Netflix offers a free month trial, and then has multiple plans:
$7.99 – limited to 1 screen at a time, and no HD availability
$10.99 – up to 2 screens streaming at the same time, basic HD availability
$13.99 – up to 4 screens streaming at the same time, basic and Ultra HD availability
Watch Recent Episodes Through The CW Online or App
Once you get caught up, the CW website lets you watch the most recent five episodes online, or through the CW app. The app can be used through mobile devices, on Apple TV, Roku, and similar streaming devices without a cable provider login.
Can you watch it on Hulu?
While Hulu does carry some CW shows, Riverdale is only available through the Live TV package, which is $39.99 a month (after a 7-day free trial).
Purchase episodes on Amazon and iTunes
Amazon carries Riverdale for digital purchase, either by episode or season. Episodes are $1.99 – $2.99 (SD vs HD), and seasons 1 and 2 run from $24.99 – $29.99.
iTunes similarly offers a by-episode purchase option, as well as a season pass for the current season 3, which for $39.99, delivers new episodes into your library as they are available.
Need More Information?
If this article didn't answer your specific question, head over to our Home Page! It will guide you to affordable internet providers, streaming services to meet your needs, information on antennas, and many more tools and resources to help you save money on TV and Internet access.
For tips and tricks on cutting the cord and other tech topics be sure to join our Facebook Page.
Join Millions of Cord Cutters
Disclosure: Grounded Reason is supported by a small commission for purchases made through some product links on this website. We do not accept compensation from companies attempting to sway our review of products.