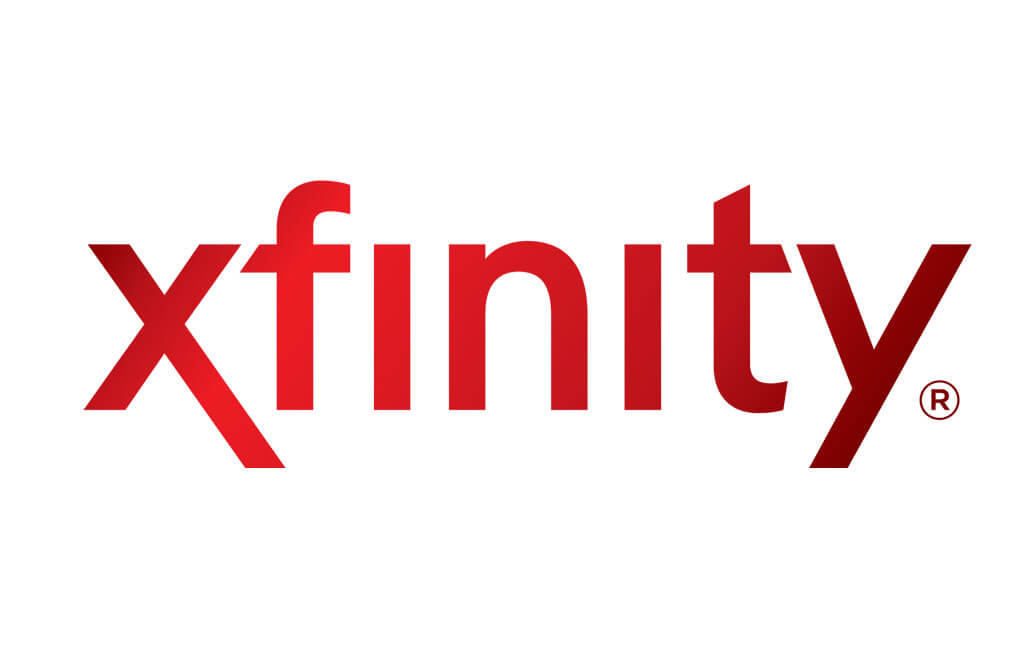 The average family's TV and internet bill is by far their most expensive utility bill at an average of over $200 per month. Today I'm going to go step by step on saving money using Comcast Xfinity.
I intend to go screen by screen showing you things you can do to save money when ordering internet service. To do this, we will take advantage of an Xfinity Internet-only plan, and even show you how to save money on modem fees by using your own modem.
Considering that the vast majority of households don't have a real choice when choosing an internet provider, I've selected an address where Comcast is the sole provider of broadband internet to show it's possible to save money even in an area with only one internet provider.
Saving Money With Comcast
I'm going to walk your through step by step with images to guide you through this process, so use this link to see the different internet options available. The link should pick up your address (you may be prompted to enter it based on your browser settings), and you should arrive at the page below.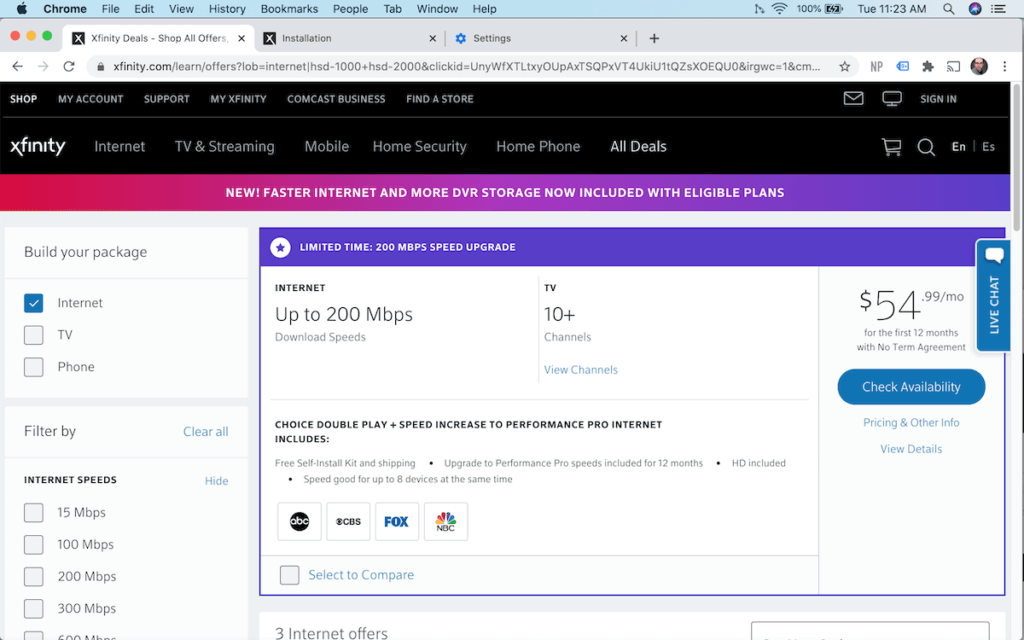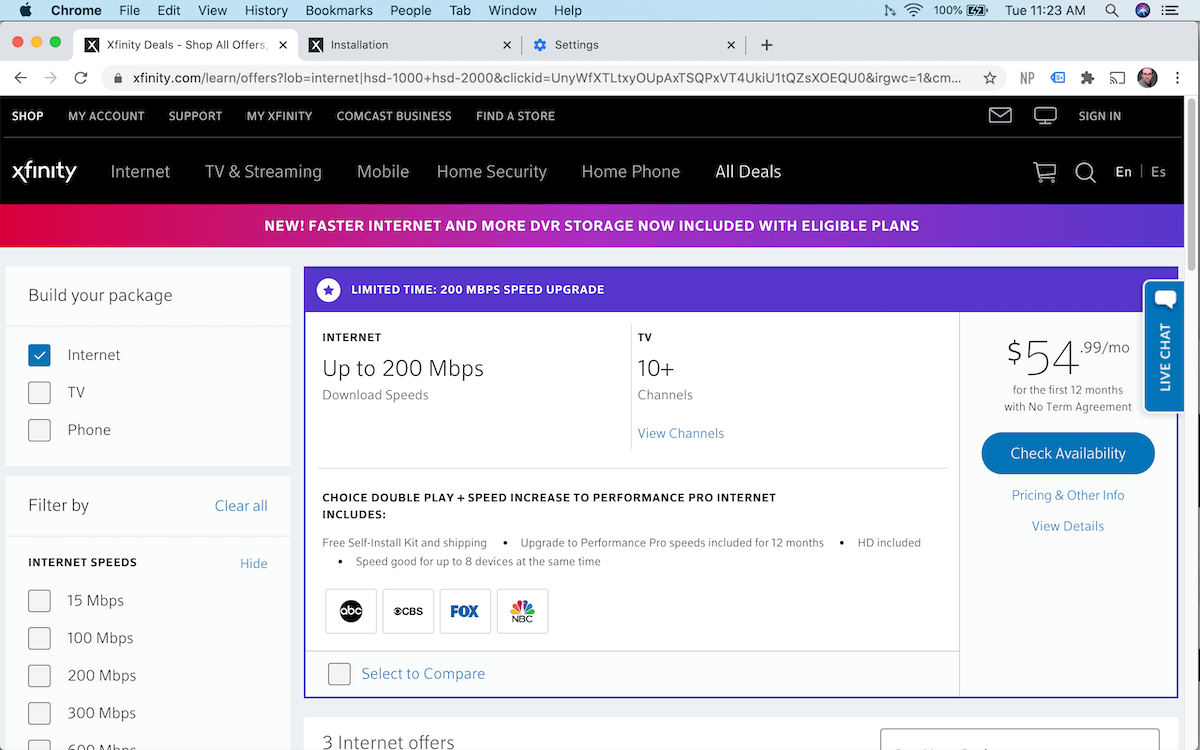 Notice the attempt to get you to subscribe to their TV plan. Even though I have "Internet" checked, the promoted deal is their basic TV. Now, this deal seems excellent, and you may want to take it, but be aware that price doesn't include a $5-10 monthly device rental along with up to $14.95 in broadcast fees. When your first bill arrives, you could be paying over $80 per month, a considerable increase over the advertised price. Instead, scroll down to one of the better deals that only offer internet, as shown below.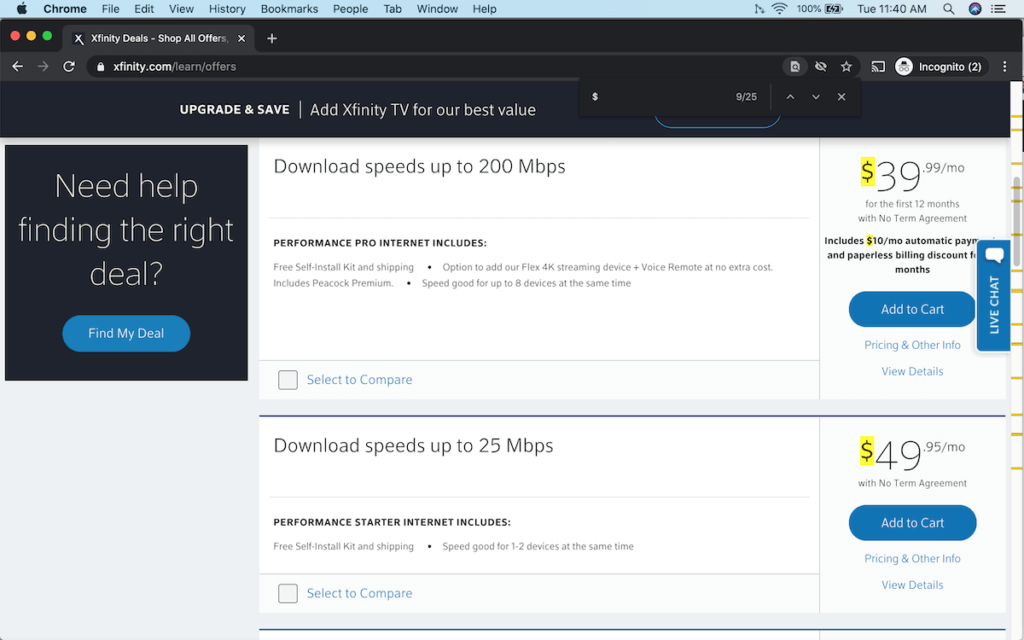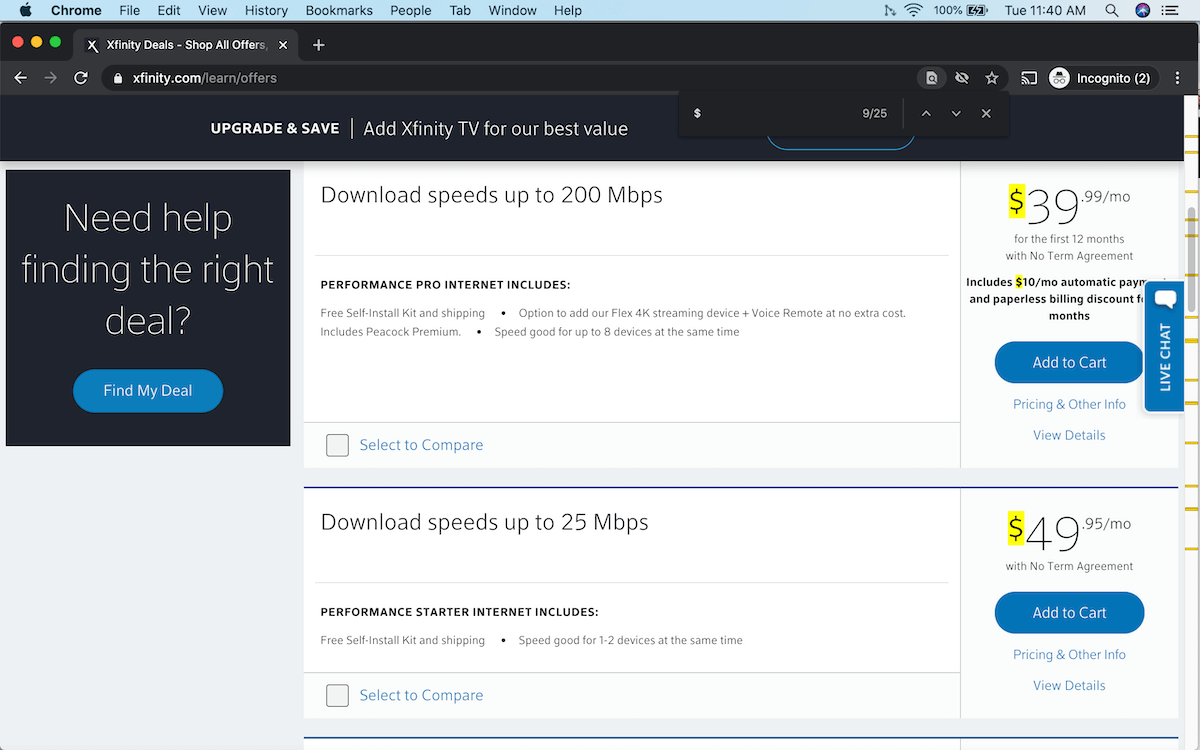 Ideally, you want to find a deal that doesn't expire before the term is up. The best-case scenario is a "No Term Agreement." That deal guarantees you can drop service when they get rid of the promo price and increase your monthly payments. Another deal that works is where the term length is the same as the promotional price. This scenario also lets you cancel service when the promo price expires. Now you may be wondering what to do for internet access when the price increases. I put together an article on tricks to get that promo price for existing internet customers.
When you see the deal you like, click "Add to Cart." You should then see the order screen below.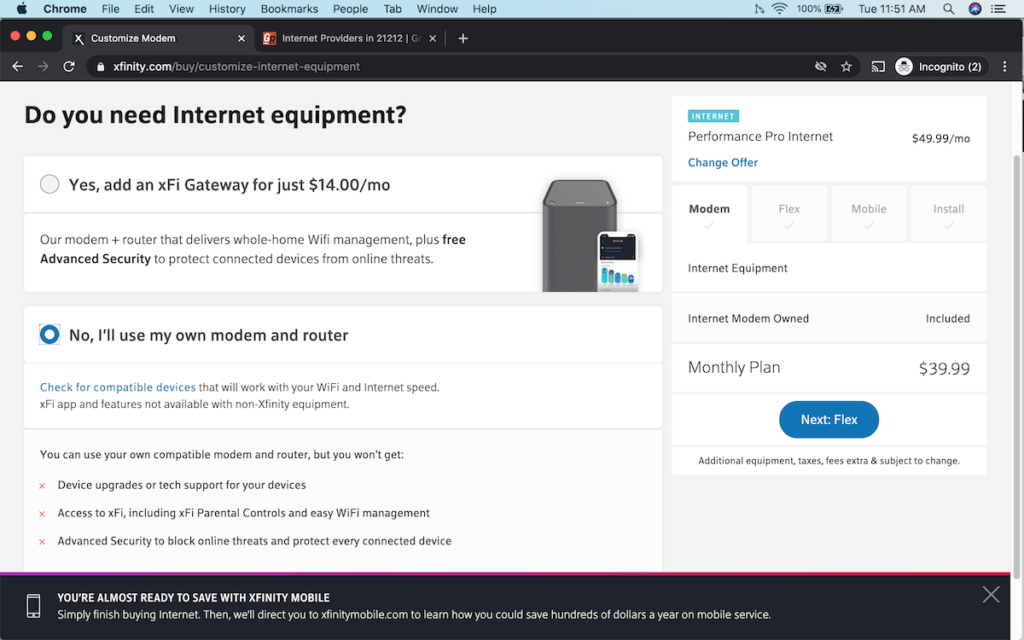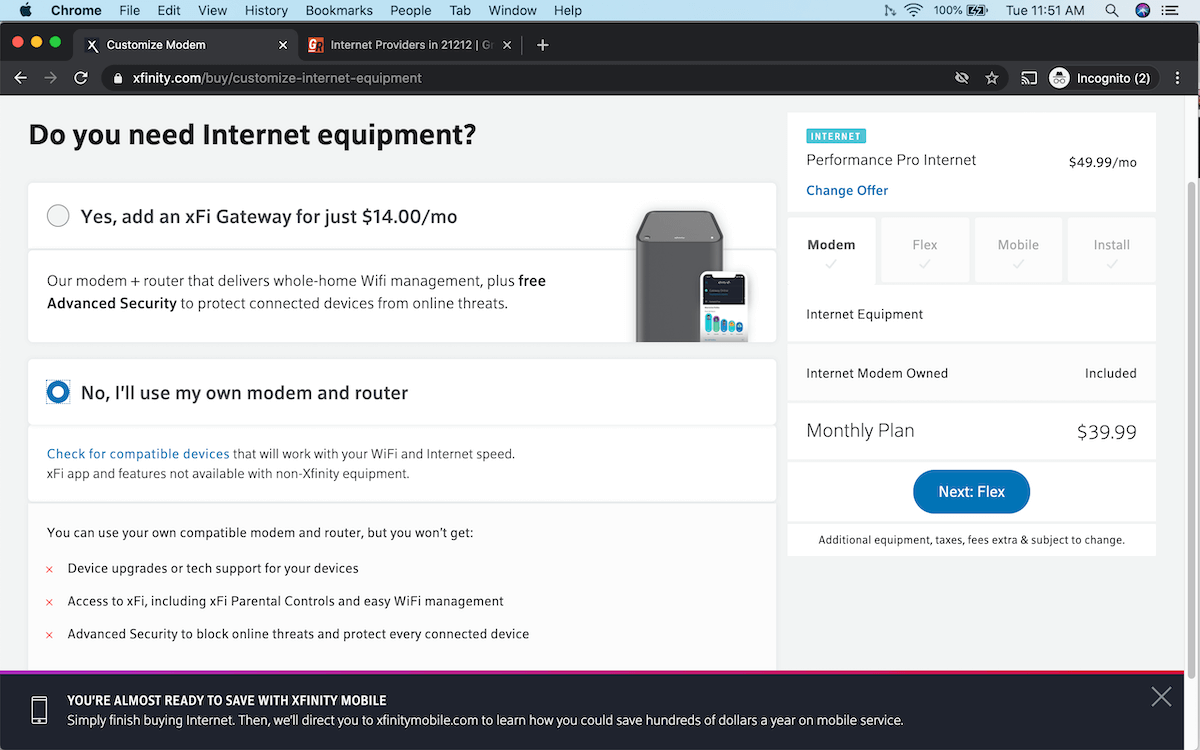 Now here is your first opportunity to save a bit of money. If you decide to take their modem and router then you will be paying an extra $14 per month the entire time you have service. Instead, you can do what I have done and use your own modem and router. You can skip down to the next section if you aren't interested in using your own equipment. For the plan we selected, the Netgear CM500 DOCSIS 3.0 cable modem will work perfectly. This modem supports Xfinity internet plans with speeds up to 300 Mbps. You will want to get a modem that can support the speed in the plan you selected. If you decided on a Gigabit internet plan, then you will need the Netgear CM1000.
These modems are very easy to install, and the CM500 costs around $60. As I explain in my article on using your own cable modem, the modem translates the cable company's internet signal into something a home network can handle. You will also need a router for your home network. As highlighted in our recent article on "the best rounder under $100" we recommended the TP-Link wifi 6 AX1500 Smart wifi Router. This router supports the current mainstream wifi standard of 802.11ac and the next generation wifi 6 standard.
It's effortless to set up Xfinity using your own equipment, as you can see in the instructions to set up your Netgear modem. Once the modem is set up, you merely connect the router to your modem with an ethernet cable and follow the instructions in the TP-Link quick start guide that comes with the router. Those looking for a deeper dive on the topic should look at our guide to improving your home network. Ultimately, your setup will look something like the image below.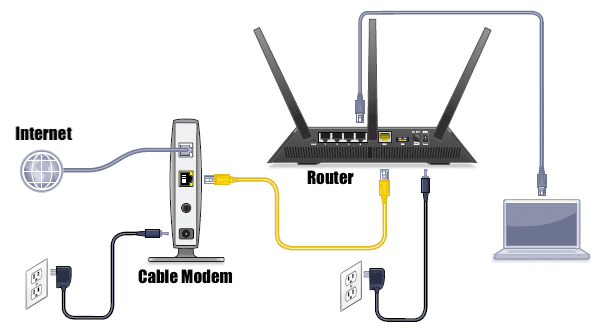 Both the router and modem will cost you about $150. However, after a single year, renting equipment from Comcast would have cost you $168 in device fees. Furthermore, you own this equipment. Once you hit the break-even point around month 11, it's 100% savings after that.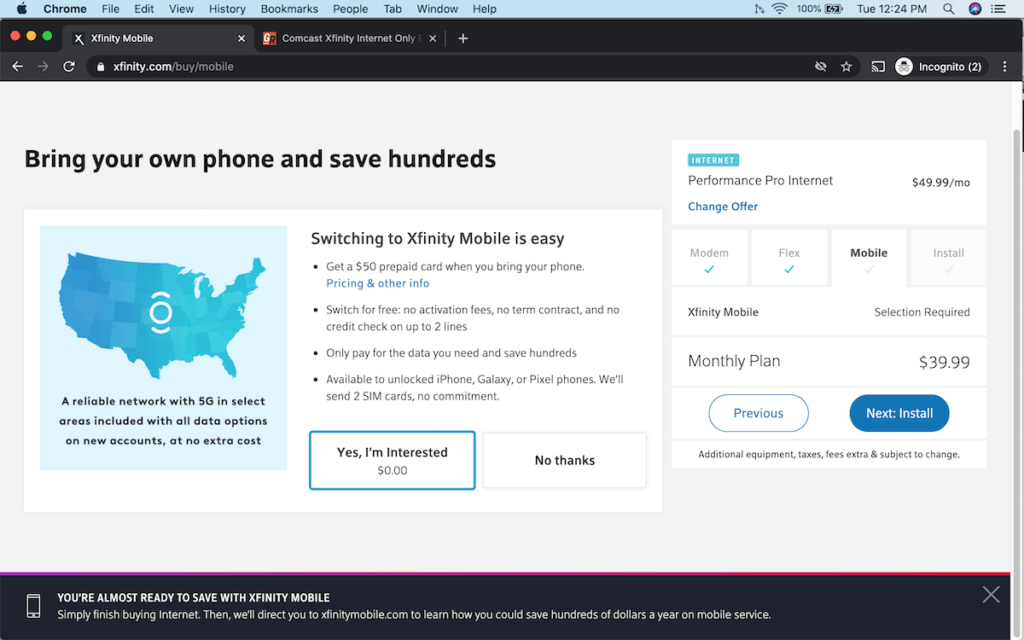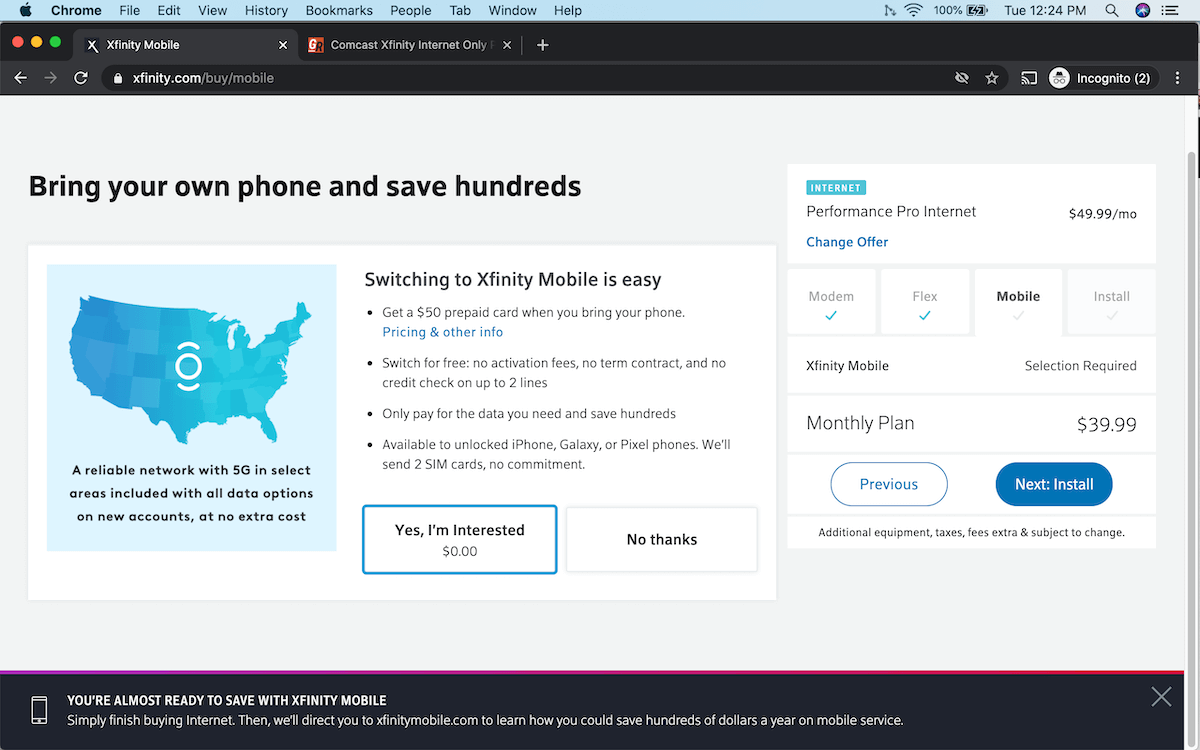 The next page is for an Xfinity Mobile plan, which you can skip unless you are interested. Go ahead and click install to bring us to the install page.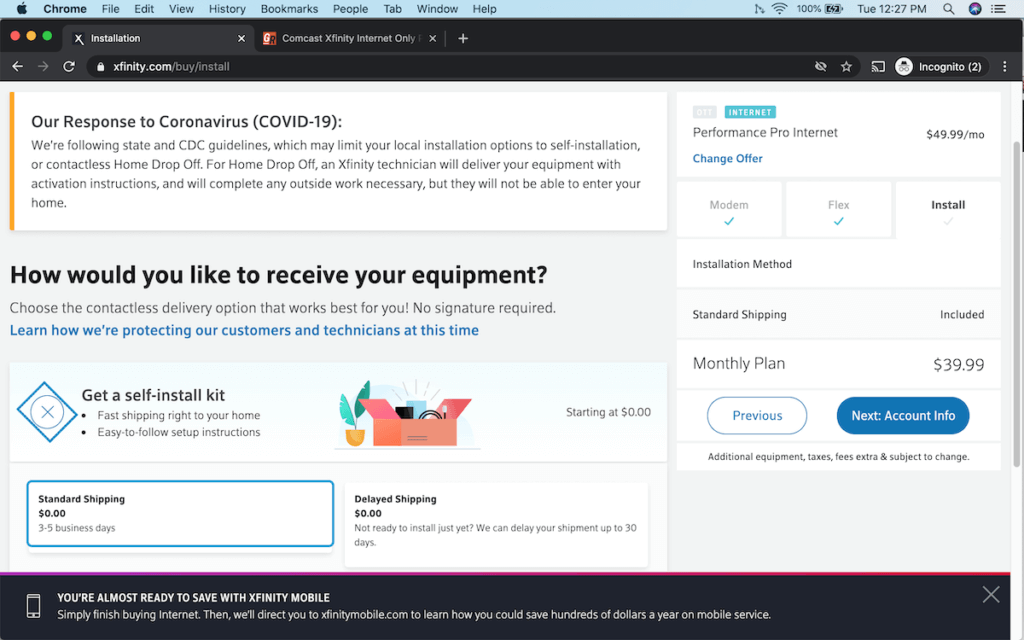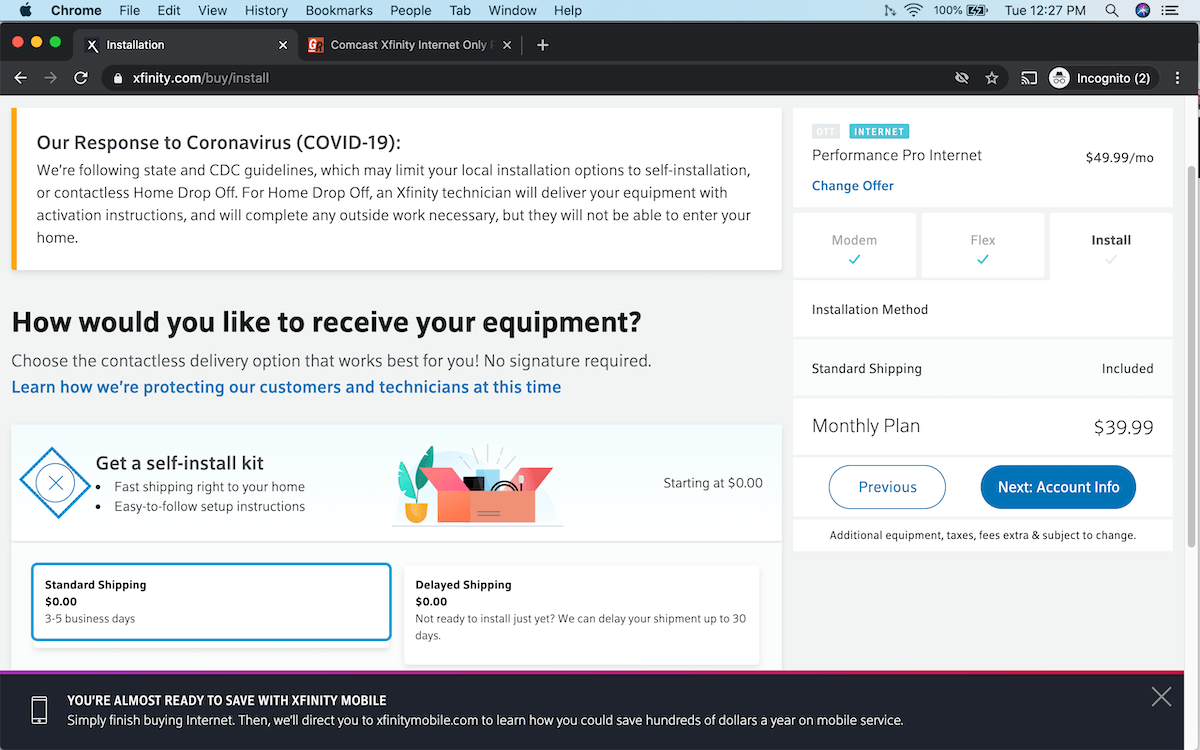 Select "Self Install Kit," as internet-only plans are straightforward to set up. You won't even need the kit if you are using your own equipment. You can set up the network yourself when your modem and router arrive. After this screen, it's merely a matter of entering your email address, billing address, and payment information. If you are using all your own equipment, your monthly bill should be the advertised price plus your local taxes.
Information on TV Service
This guide is to show you how to save on your internet service. Using Xfinity internet, you can use any number of cable TV alternatives to craft the TV setup you like. I go over the best way to save money on TV in our article on How to Cut the Cord.
Need More Information?
If this article didn't answer your specific question, head over to our Home Page! It will guide you to affordable internet providers, streaming services to meet your needs, information on antennas, and many more tools and resources to help you save money on TV and Internet access.
For the latest news tips and tricks on cutting the cord and other tech topics be sure to follow our Google News Feed, like our Facebook Page and Follow Us on Twitter.
Join Millions of Cord Cutters
*
Disclosure: Grounded Reason is supported by a small commission for purchases made through product links on this website. We do not accept compensation from companies attempting to sway our review of products.