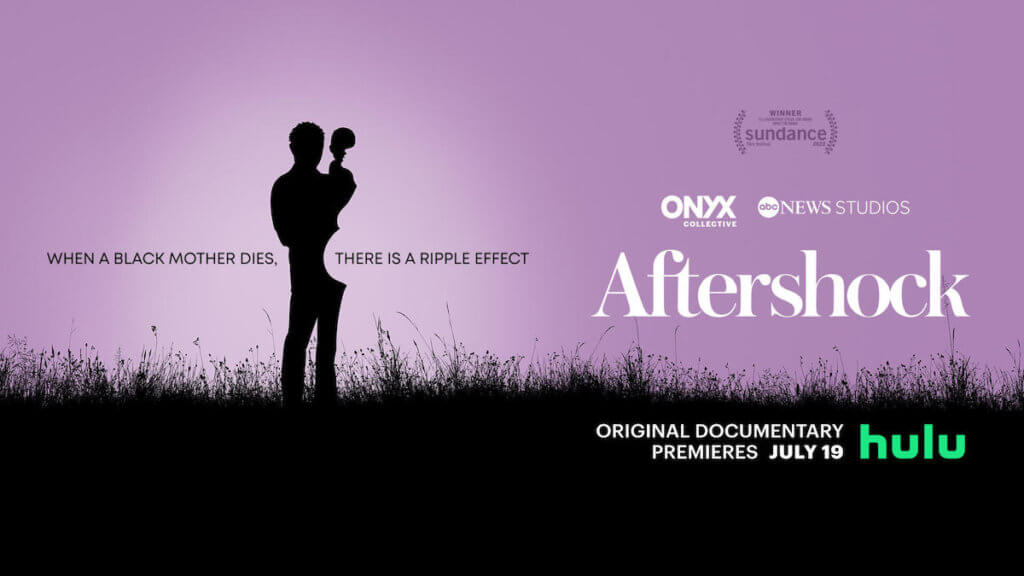 The U.S. has a shocking maternal health crisis, and it hits members of the Black community in disproportionately high numbers. The new documentary, Aftershock, which tackles this issue, premieres on Hulu on Tuesday, July 19. Aftershock filmmakers began following Omari Maynard and his family just two months after his partner Shamony Gibson, who died due to complications surrounding the birth of her son. A few months later, Omari connected with Bruce McIntyre, who lost his partner Amber Rose in similar circumstances. What follows is the galvanization of their families after the death of those two young women and the beginning of a significant new wave of activism that involves families, birth-workers, and physicians.
Aftershock shows how the families became activists, the struggle they and other groups face in the pursuit of justice through accountability and legislation, and how communities are reformed. It showcases the power of art, profiles a brotherhood of surviving Black fathers, and the reform work of the medical professionals on the ground, all demanding systematic change. Read on to learn how to watch Atershock without cable.
When Does Aftershock Premiere: Aftershock premieres on Tuesday, July 19.
Where To Watch: Aftershock streams on Hulu.
How To Watch: Use this 30-day free trial to Hulu.
How To Watch Aftershock
Aftershock is being released exclusively on Hulu. Not yet a Hulu subscriber? Hulu offers a free trial month and several different monthly plans, as well as one of the biggest Streaming Libraries around. All of them will allow you to watch Aftershock, and you can cancel at any time. The plans are listed below:
Hulu (with ads): This plan costs $7.99 per month but provides an annual billing option priced at a discount. This plan is ad-supported.
Hulu (no ads): This plan costs $17.99 per month. With this plan, you get all the movies and TV shows in Hulu's streaming library commercial-free. (Due to network arrangements, Grey's Anatomy, Marvel's Agents of S.H.I.E.L.D., and How To Get Away With Murder will always have commercials).
Hulu is supported on Roku, Amazon Fire TV, Apple TV, Google Chromecast, and more. For more information on the service features and device support, please see our in-depth review of Hulu.