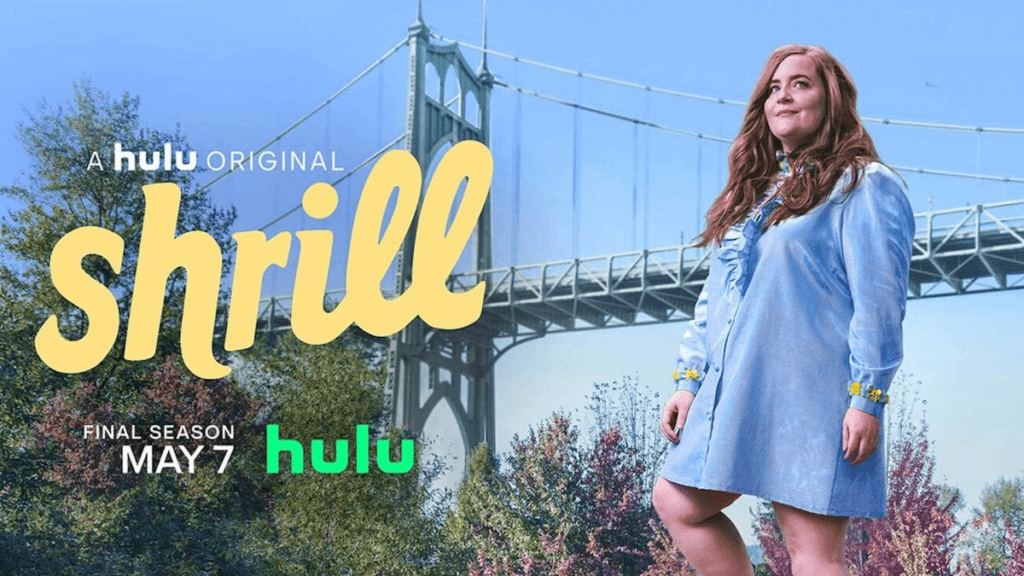 The third and final season of Shrill is now available to watch on Hulu. That's right! All 8 episodes are now available to stream!
When Does Shrill Season 3 Release: May 7, 2021, at 12 am EST
How Many Episodes: Season 3 has 8 episodes. All are available now!
How To Watch: Use this 30-day free trial to Hulu
How To Watch the New Season of Shrill
Shrill is a Hulu original series, so you can only find it on Hulu. So if you want to watch, you will need to choose one of the Hulu services plans below.
Hulu offers a free trial month and several different monthly plans. All of them will allow you to watch every season of Shrill. The plans are listed below:
Hulu (with ads): This plan costs $7.99 per month but provides an annual billing option priced at $69.99 per year. This plan is ad-supported.
Hulu (no ads): This plan costs $17.99 per month. With this plan, you get all the movies and TV shows in Hulu's streaming library commercial-free. (Due to network arrangements, Grey's Anatomy, Marvel's Agents of S.H.I.E.L.D., and How To Get Away With Murder will always have commercials).
Hulu is supported on Roku, Amazon Fire TV, Apple TV, Google Chromecast and more. For more information on the service features and device support please see our in-depth review of Hulu.
Catch Up On Shrill
If you are looking to catch up on Seasons 1 and 2 of Shrill, you can do so through any of the Hulu subscriptions listed above.
What Is Shrill About
Learning personal value and self-appreciation in the face of social perception doesn't always sound like the stuff of comedy. Nonetheless, Hulu is bringing together that blend of personal growth and laughter with its new series Shrill, and so far seems onto something quite appealing. 
Annie is an overweight young woman with a burgeoning new career who is ready to change something in her life—but not her body. For Annie, played by Aidy Bryant (Saturday Night Live), she well knows how she is judged for her body size. But as she starts to recognize that she is as good as anyone else, she finds her own way to change things, whether it is dealing with her perfectionist boss and forging her own creative outlet, standing up to her not-so-great boyfriend, or balancing her relationship with her parents.
Shrill is inspired by Lindy West's 2016 feminist memoir on body positivity, Shrill: Notes from a Loud Woman, and was adapted by Bryant herself, along with West and Alexandra Rushfield. It is executive produced by Elizabeth Banks—who optioned West's book in 2016—and Lorne Michaels.
While West's original memoir inspired the basis for the series, the team adapted it into a fictional story, creating Annie and her life in part from scratch, as well as from both West's and Bryant's personal experiences. This personal element shows, as does the love the team had for the character, who was written as a full and real woman. She is surrounded by family and friends, has a job and relationships. Her story isn't based on her struggles with diets to try and prove her worth, but rather how she finds her own self-value despite the way society can diminish people who don't fit the right shape.
Bryant, who has received two Primetime Emmy Award nominations for SNL, has also appeared as a guest on such comedies as Unbreakable Kimmy Schmidt, Portlandia, and Girls. The series also stars British comedian Lolly Adefope (Miracle Workers) as Annie's best friend and roommate; Luka Jones (People of Earth) as Annie's less-than-stellar boyfriend; John Cameron Mitchell (Hedwig and the Angry Inch) as her perfectionist boss; as well as Ian Owens (The Second City's Unelectable You), and Julia Sweeney (The Goode Family). Series directors include Jesse Peretz (Girls, GLOW) and Carrie Brownstein (Portlandia, Casual).