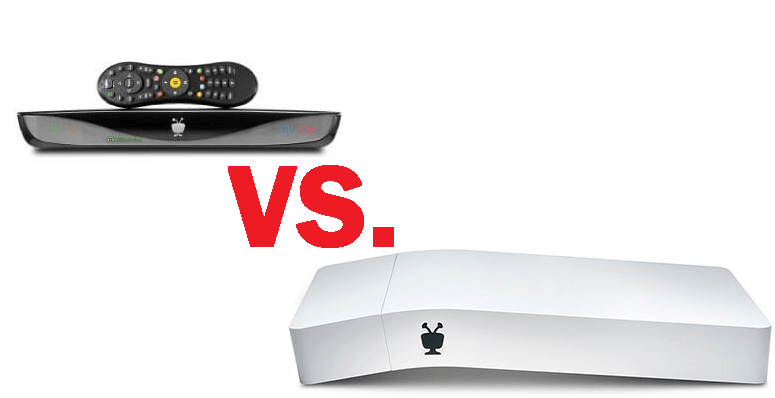 Readers of the blog know that I recommend the TiVo Roamio OTA when it comes to purchasing an OTA DVR. A few commenters have questioned why I do not recommend the TiVo Bolt. It has better tech specs than the Roamio OTA.
To that point I agree. However, the Bolt costs more than double the Roamio OTA if you were to purchase the lifetime guide. As a cord cutter looking to record broadcast TV only, I really don't see the value.
Difference Between Bolt and Roamio OTA
Below is a list of major differences between these devices as listed in my OTA DVR guide.
The Cost of TiVo Bolt with a Lifetime Guide subscription costs $849, TiVo Roamio OTA comes with a lifetime subscription and cost $399.
The Bolt has 4K video streaming, where the Roamio supports 1080p
The Bolt has a slightly faster processor and a bit more RAM
The Bolt has MoCA built in, so it will work as a cable box. (useless for cord cutters)
The Bolt supports 802.11ac for WiFi where the Roamio tops out at 802.11n.
TiVo Stream is built into the Bolt allowing you to stream to iOS and Android devices. The Roamio requires the purchase of TiVo Stream device for that capability.
The Bolt has GB Ethernet, where the Roamio offers 100 MB Ethernet.
So let me start by breaking down which of these differences matter and which do not. First, as I already mentioned, the price is a massive point in the Roamio OTAs favor.
Before I get into the next point I want to point out, that majority of those looking to cut the cord either already have a streaming device or are strongly considering one. I would only recommend using TiVo as a streaming device if you are trying to save money. Those folks are concerned with price, which Roamio OTA wins out on anyway.
TiVo makes DVRs, they are not known for their streaming devices. I'd stick with Roku, Apple and Amazon when it comes to OTT streaming. With that in mind, and considering broadcast TV isn't in 4K video, the Bolts 4K streaming ability is rendered useless for most cord cutters.
The tech specs win out for the Bolt. However, when comparing it with the Roamio, much of its technical specification advantage is extraneous. The faster processor and RAM only benefit the streaming app performance and it's hardly a noticeable improvement.
The 802.11ac Wi-Fi is a nice addition. However, while 802.11ac is about 3-4 times faster than 802.11n in practical situations within 20 feet of an optimally placed router, 802.11n has a longer range. So while this is a legitimate perk, its benefit is situational. However, note that extending TiVo to multiple TVs using a TiVo mini requires an Ethernet connection.
If you want to stream to iOS and Android device, the Bolt does that natively. However, the Roamio OTA can accomplish this with the purchase of $130 TiVo Stream. At that point, there is still over $300 separating the two devices.
The 1000 Mbps Ethernet support it nice, but 100 Mbps Ethernet is more than enough speed for the DVR functionality. For example, to stream a 1080p HD feed without buffering you only need about 5 Mbps to stream without any buffering.  1000 Mbps is just overkill.
Which is Better
From a strictly cord cutter viewpoint, the TiVo Roamio OTA is clearly a better value than the TiVo bolt. It packs all the functionality you need to DVR broadcast TV and a much better price point.  I'd only purchase the Bolt if you were in one of the two following situations.
You were possibly going back to cable TV at some point, since it can work as a cable box.
Money is of no concern to you.
Everyone else should go with the TiVo Roamio. For information on everything you need to know about purchasing a DVR check out my guide on the best OTA DVRs
If you want to check out the specials on either device you can check them out on Amazon through the links below.
Need More Information?
If this article didn't answer your specific question, head over to our Home Page! It will guide you to affordable internet providers, streaming services to meet your needs, information on antennas, and many more tools and resources to help you save money on TV and Internet access.
For the latest news tips and tricks on cutting the cord and other tech topics be sure to follow our Google News Feed, like our Facebook Page and Follow Us on Twitter.
Join Millions of Cord Cutters
*
Disclosure: Grounded Reason is supported by a small commission for purchases made through product links on this website. We do not accept compensation from companies attempting to sway our review of products.