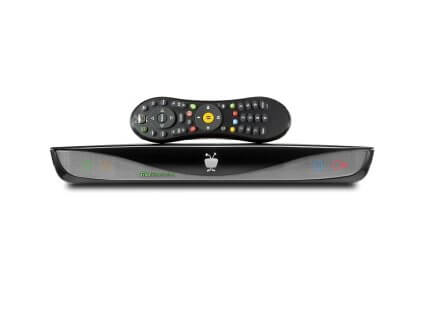 As of today, Tivo is dropping there monthly subscription for their Roamio DVR for recording over the air TV signals. And by "dropping", I mean completely getting rid off. Not only that, but they have increased the internal storage of the device from 500 to 1000 gigabytes.
This is major news. The Tivo Roamio has always been the most user friendly of over the air DVR, however the subscription fee has always kept me from recommending it over Tablo. This change has forced me to update my guide on the best OTA DVR.
While the Tablo DVR is still an excellent product (and still may be the best multi-room solution), the Tivo Roamio is now my top recommendation. Below is my updated review of Tivo from our main DVR guide.
As of May 2nd 2016, TV has removed it's monthly subscription fee and added more storage to the device bring ing it to 1 TB.
The company that brought us the DVR is my top recommendation for those that want to record over the air television. With TiVo Roamio OTA you can record and playback shows just like any DVR you've had with a cable or satellite TV provider.
TiVo provides a TV guide that allows for easy series recording. Additionally, TiVo Roamio OTA includes Apps for Hulu Plus, Amazon Instant Video, and Netflix, allowing you to substitute the Roamio for set top streaming devices like Roku, Apple TV, and Chromecast.
Is there a DVR guide fee?
Not any more. The new Roamio provides a lifetime subscription.
Do I need to own a streaming device with Tivo Roamio OTA?
No and Roamio OTA includes Apps for Hulu Plus, Amazon Instant Video, and Netflix, allowing you to substitute the Roamio for set top streaming devices like Roku, Apple TV, and Chromecast.
Does Tivo Roamio OTA support Wi-Fi?
Yes.
How many shows can Tivo Roamio OTA record at once?
Tivo Roamio OTA can record up to 4 shows at once.
How many devices can view recordings simultaneously?
Yes, but with an added device. For each extra TV, a Tivo Mini will be needed to watch recorded devices. You can also set recordings for the through the Tivo Mini. Tivo's website indicates the following:
"The TiVo Roamio OTA 1TB works optimally with up to four TiVo Minis, and potentially with up to ten TiVo Minis."
This means Tivo Roamio, through additional Tivo Minis can support 5 – 11 televisions depending on how well your network is set up to handle the traffic.
You can also watch recorded shows on an Amazon Fire TV or Apple TV if you have the Tivo Stream device. (See the next question)
Does Tivo Roamio OTA stream to mobile devices?
Tivo Roamio OTA requires the purchase of Tivo Stream at $130 to stream to mobile devices. The Tivo Stream will allow you to download live and recorded TV to iOS and Android™ smartphones and tablets, both in and out of your home. It will also allow you to watch your recorded shows on an Amazon Fire™ TV or Apple TV® in another room of your home.
So cord cutters with a few Amazon Fire TV sticks on other may want to consider purchasing the Tivo Stream instead of buying a bunch of Tivo Mini devices.
Does Tivo Roamio OTA require external storage?
No. Tivo Roamio OTA has an internal 1TB hard drive.
Total Cost of Tivo Roamio OTA
The TV Roamio costs $399.99 and includes a lifetime guide subscription. It's cord cutters dream solution for recording OTA TV. However, if you want the privilege of streaming to a mobile device, even within your home network, you need to pay an additional $130 for Tivo Stream. You will also need to purchase the Tivo Stream if you want to watch the DVR on multiple TVs. Furthermore you are currently tied to using the Tivo app that's only available on Amazon Fire TV and Apple TV. Otherwise you will need a Tivo Mini on each TV.
If you use Apple TV or Amazon Fire TV, this may be a feasible solution for multi-room functionality. However, if you have to use the Tivo Mini device, then the costs can add up quickly depending on how many TVs you want to add the DVR functionality to.
Still, considering multi-room DRV functionality can run between $20-$40 per month from a cable provider, the Tivo Roamio pays for itself fairly quickly.
If Tivo isn't workable as a multi-room solution for you, then you may want to look at the Tablo DVR which excels at multi-room DVR function . However, if you want an ultimate replacement to the traditional cable TV DVR service, then look no further than the TiVo Roamio OTA.
Need More Information?
If this article didn't answer your specific question, head over to our Home Page! It will guide you to affordable internet providers, streaming services to meet your needs, information on antennas, and many more tools and resources to help you save money on TV and Internet access.
For tips and tricks on cutting the cord and other tech topics be sure to join our Facebook Page.
Join Millions of Cord Cutters
Disclosure: Grounded Reason is supported by a small commission for purchases made through some product links on this website. We do not accept compensation from companies attempting to sway our review of products.