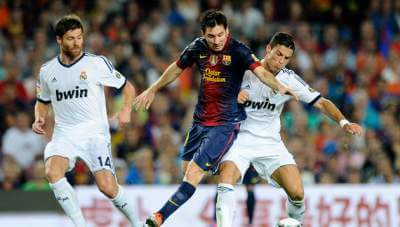 Please see the guide  How to watch the World Cup Online for information on the 2018 World Cup.
For the 2017-2018 season, every English Premier League (EPL) match is now available to watch live online.  This guide will cover how to watch EPL and almost every other soccer league around the world. Whether English Premier League, World Cup, La Liga, or MLS, there are plenty of ways to watch soccer online and without a cable TV subscription.
Below are various online sources to get your soccer fix for 2017-2018.
English Premier League Online
English Premier League, now known as Barclays Premier League, is the most watched soccer league in the entire world. Many readers of this site have asked when and how they could stream it. Well, they finally have a way to enjoy Premier League with Sling TV's Blue Package. Sling TV Blue carries NBC Sports Network (NBCSN), USA, and even live NBC in Chicago, Dallas-Fort Worth, Hartford, Conn., Los Angeles, Miami, New York, Philadelphia, San Diego and Washington D.C. You can try Sling TV Blue free for 7 days!
Sling TV Blue will provide access to almost every Premier League match every weekend. You will only miss about 2-3 matches a week. Those are the matches on Premier League Extra Time and the NBC Sports App. However, just looking at the schedule below you can see Sling TV Blue provides most the action.
One game a week may be shown on broadcast NBC. Therefore, if you do not live in one of the markets where Sling offers the NBC network, you may want to look into getting a digital antenna. It's worth it for the free network channels alone.
Matches Not Airing On TV
The top matches every week will air on NBC, NBCSN, or CNBC. However, there are many matches that do not air on television. For die hard EPL fans who want to see those matches, pick up the Premier League Pass on the NBC Sports Gold app.
The Premier League Pass costs $49.99 for the EPL season and will air every match not airing on TV. That's roughly three extra matches every weekend. Combing Sling TV Blue with Premier League Pass will allow you to watch the entire 2017/18  online without a cable TV subscription.
The service will stream live and on-demand EPL matches on Apple iOS, Android, Apple TV, Roku, Amazon Fire TV,  Chromecast, and modern web browsers.
Other Soccer On Sling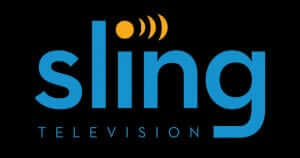 Sling's International sports package offers live and rebroadcasted soccer matches for soccer fans in the United States.
While Sling is owned by DISH Network, a satellite or cable subscription is not required to enjoy the Sling International Sports package. The subscription provides access to beIN SPORT, beIN SPORT Espanol, One World Sports, Universal Sports (for rugby fans) and more.
If you want to hear my account of Sling TV, check out the episode of the Grounded Reason Podcast where we examine Sling TV. The podcast it's free! Click this link to listen on iTunes. If you don't have an iOS device or iTunes installed on your PC check this show notes page for other options.
Sling TV is essential cable TV over the internet. You can watch it on all major streaming devices. For more details either listen to the podcast or check out my review of Sling TV.
Watch Soccer Live Online
The draw here for soccer fans is One World Sports and beIN sports. Between those two channels, subscribers have access to Chelsea TV, Arsenal TV, Bayern Munich TV, NASL, J-League, Copa America 2015, La Liga, Serie A, Ligue Un, 2015 Africa Cup of Nations qualification,  Championship, League Cup, Coppa Italia, Copa del Rey and more. This is huge for fans of the top clubs around the world and those who want to watch the upcoming World Cup qualifying matches.
The Sling International Sports Package runs $10 a month, and now you can Sign up Here. However, if you sign up for 3 months of Slings base Package you receive your choice of a free Roku Streaming Stick or 50% off a Roku 3.
The base package provides ESPN, TNT, TBS, AMC, Adult Swim, Disney Channel, Food Network, HGTV, Cartoon Network, and more for $25 per month. You can then decide to add the International sports package or Slings $5 sports add-on which provides Universal Sports and beIN Sports for soccer and rugby in addition to ESPNU, ESPNEWS and the SEC Network and more.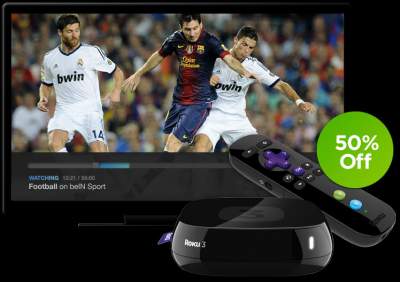 For those taking the Roku deal, there is only a 3 month commitment, otherwise subscribers can cancel anytime. For example, those interested in watching during certain times of the year can activate and deactivate their subscription when it suits them. That's a smart way to save those hard earned dollars.
Not only does Sling offer Soccer from the top clubs around the world, but International Rugby, Surfing, sailing and much more. Furthermore, Sling offers a way for those living in the U.S. to watch live cricket online.
Aside from the sports,  subscribers receive access to a number of English speaking international channels. Sling packages come with Bloomberg TV, EuroNews, and France 24 among others.  Subscribers also have access to foreign films and new releases. That's a huge plus for those soccer hooligans that are also into Bollywood.
Sling App
Sling is supported on iPad, iPhone, and Android tablets and smartphones. You can also watch it on Mac and PC. Of course, it is exclusively on the Roku with it's own channel, streaming international soccer right to your living room television.
Upon signing up for the service, the setup only takes a few minutes. Simply download the app from their website, login, and you are ready to watch. The service offers quality sound and video with little buffering and short load times.
The International Sports package is just one of the packages offered from Sling. They also offer non-sports television content from around the world. Packages include Hindi TV, Arabic TV, Taiwanese TV. Mandarin TV, and numerous other international content bundles. Some of the top packages even include the sports package free of charge. Please check out their other offers if the sports package doesn't seem like the right fit.
Watch Soccer with FuboTV

FuboTV is a streaming service dedicated to Soccer. FuboTV provides live and on-demand access to beIN Sports, GOLTV, and Univision. All in both English and Spanish. The service also includes El Rey Network, Galavision, Sport TV Americas, Benefica TV, and more.
These networks provide access to La Liga, Serie A, MLS, Liga MZ, Ligue 1, Primeira Liga, and Brazilian Serie A. You will also have access to Championships like Copa America, Copa America Centenario, CONMEBOL, English League Championship, English League Cup, and Swiss Super League.
It's a ton of soccer. You can cancel any time. FuboTV is supported on Roku, Chromecast, Amazon Fire TV, along with iOS and Android devices. If you want to test out FuboTV you can sign up here for free 1-week trial.
MLS Live Online
If your a fan of MLS and don't have cable, then not to worry. MLS Live allows you to stream every out of market game, all season long. MLS Live allows you to watch live soccer on Roku, Apple TV, Chromecast, and both iOS and Android devices. You can also use your Mac or Windows PC to stream live MLS action.
Black-out policies do apply, but they aren't nearly as bad when compared to most U.S. sports. They tend to only black-out games carried by a major network, namely ESPN and NBC. Both of those networks can be viewed without cable using Sling TV or an OTA Antenna.
MLS Live carries a price tag of about $79.99 bucks for the entire season. That's a great value compared to other online sports streaming packages. The service has full DVR-like functionality allowing you to pause, rewind, or even put a play in slow-motion.
When you pull up past games on demand, MLS Live has bookmarked goals and key plays, so you can get right to the most exciting parts of the game. MLS Live even provides you with information about the formations used on offense and defense, with stats, scores and other information as well.
Fox Soccer 2 Go
Fox Soccer 2Go offers world class soccer from Champions League, Serie A, La Liga, and Bundesliga. The service is available on PC, Mac, iPhone, iPad, Android smartphones, and Apple TV via Airplay.
Fox also has the rights to Men's and Women's World Cup Soccer. Fox will have the rights to air FIFA Men's World Cup in 2018, 2022, and 2026. The rights to air FIFA Women's World Cup are owned by Fox in 2019.
Unfortunately the live broadcasts are blacked out for nationally televised matches. However, even with all those blackouts, over 500 matches are streamed live on the service every year. The service is pricey, but there is a ton of content.
If you have any questions, feel free to ask in the comments and I'll address them as soon as possible.
Need More Information?
If this article didn't answer your specific question, head over to our Home Page! It will guide you to affordable internet providers, streaming services to meet your needs, information on antennas, and many more tools and resources to help you save money on TV and Internet access.
For tips and tricks on cutting the cord and other tech topics be sure to join our Facebook Page.
Join Millions of Cord Cutters
Disclosure: Grounded Reason is supported by a small commission for purchases made through some product links on this website. We do not accept compensation from companies attempting to sway our review of products.