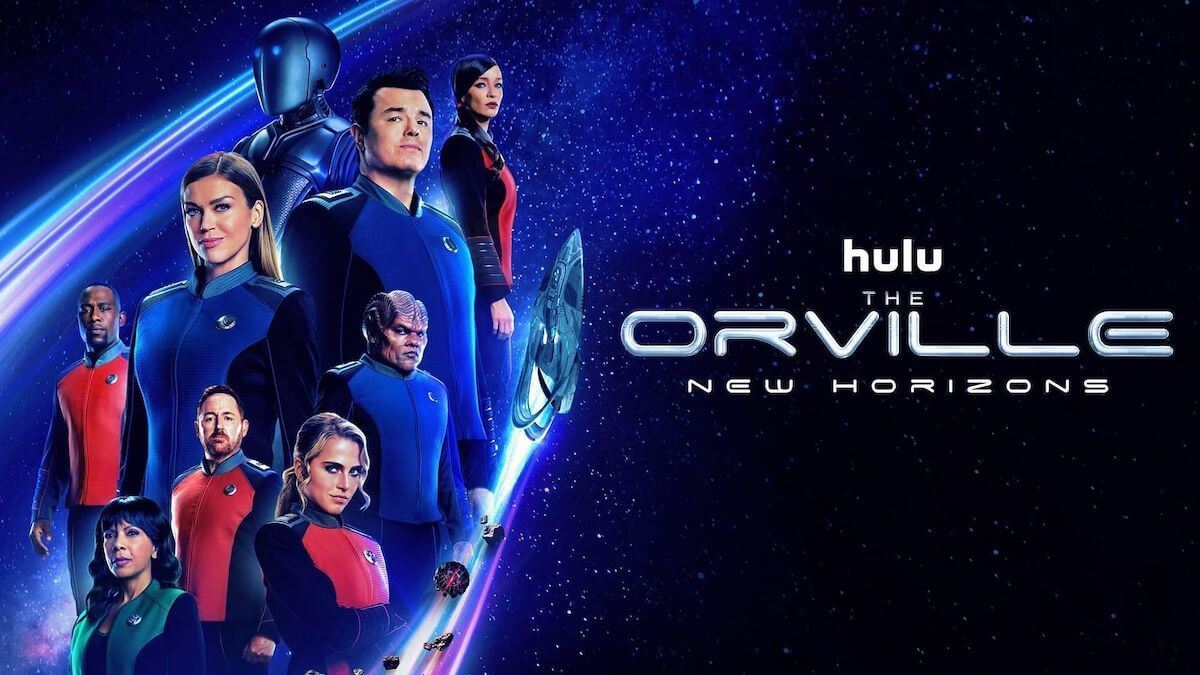 Star Trek may be going strong with multiple new series telling both new and old stories. But for the last few years, one of the best Star Trek shows out there wasn't Trek at all; it was The Orville. And now, after a long hiatus and a network hop, it is back for a third and final season, this time on Hulu, premiering on Thursday, June 2, under the title The Orville: New Horizons. It seemed at first that the sci-fi comedy was basically Trek fan fiction by Family Guy creator Seth MacFarlane. He's cast himself as the space-faring captain, naturally, and is clearly loving playing his own personal version of Kirk. He's joined by his ex-wife as first officer (awkward!) and a motley crew that includes an android, aliens, and a sentient green blob. And while the tone is all over the place, from corny to sentimental, sprinkled with jokes aimed at fourth-grade boys, The Orville managed to pull off crucial components of Star Trek that fans hadn't seen in a long time. Read on for more on the show and how to watch it.
When Does The Orville: New Horizons Premiere: The Orville's third season premieres on Thursday, June 2.
Where To Watch: The Orville is on Hulu and Disney+.
How To Watch: Use this 30-day free trial to Hulu.
How To Watch The Orville
Watch The Orville on Hulu
The Orville is now on Hulu, and the new season will debut exclusively on the streaming service. Not yet a Hulu subscriber? Seasons 1 and 2 of The Orville are also available to stream in Hulu's streaming library.
Hulu offers a free trial month and several different monthly plans. All of them will allow you to watch The Orville. The plans are listed below:
Hulu (with ads): This plan costs $7.99 per month but provides an annual billing option priced at a discount. This plan is ad-supported.
Hulu (no ads): This plan costs $17.99 per month. With this plan, you get all the movies and TV shows in Hulu's streaming library commercial-free. (Due to network arrangements, Grey's Anatomy, Marvel's Agents of S.H.I.E.L.D., and How To Get Away With Murder will always have commercials).
Hulu is supported on Roku, Amazon Fire TV, Apple TV, Google Chromecast, and more. For more information on the service features and device support, please see our in-depth review of Hulu.
Watch The Orville on Disney+
In addition to Hulu, The Orville will be landing on the Disney+ streaming service on Wednesday, August 10, with all three seasons. A Disney+ subscription costs $7.99 a month or $79.99 a year. A subscription allows for unlimited downloads of content to up to 10 devices for viewing offline and the ability to stream on four different devices simultaneously. 
Disney+ is available on mobile devices (iOS and Androids); desktop computers; PlayStation 4 and Xbox One gaming consoles; Roku; Apple TV; smart TVs such as LG, Samsung, and Android TVs; and Chromebook, Chromecast, Apple AirPlay, and Amazon FireTV. Check out our review of Disney+ for more information.
Purchasing The Orville Online
To buy past seasons of The Orville, the cheapest options are Amazon or Vudu, both of which offer it in HD for $9.99. YouTube, Google Play, Vudu, and Itunes offer it at $24.99 in HD. Each individual HD episode on Amazon Prime, YouTube, Itunes, Google Play, and Vudu costs $2.99. In SD, YouTube, Google Play, Vudu, and Itunes offer it at $1.99 per episode or $19.99 for the season.
About The Orville
What makes The Orville special? First, and maybe most importantly, it's optimistic. The very first shot in the first episode shows a bustling, bright New York City of the 2400s full of flying shuttles and gleaming buildings whose roofs are covered in green plants. True, right after that they show an alien exploding blue snot all over a sexual partner. But regardless, right away, they establish that our current crises are fixable. For as flashy as the "real" Star Trek is now in Discovery, it lacks that optimism. Discovery's universe is dark (literally and in tone) and full of betrayal, war, violence, and pushing hard only to be beaten down again. I didn't realize how much that depressed me until I saw The Orville.
Beyond that, the episodes do actually try to say something about today's society. Star Trek always gave us a new perspective on current problems, most famously with the classic episode about the aliens who were half black and half white. The Orville has a rather brilliant episode about being judged on social media, taking it to the extreme on an alien planet. There's also an examination of a new baby's gender roles, when a girl is born to gay couple whose civilization is almost all male.
But before we can hold The Orville up as a triumph of intellectualism, we must remember that the helmsman is known for drawing male anatomy on the viewscreen. And the weird green blob's continual and persistent sexual harassment of a female character is treated as a joke, ringing a bit false in these times. As if it weren't enough to have yet another straight white man as captain (*yawn*).
Despite all that, it's nice to see aspects of Star Trek here that you can't find in actual Star Trek. And that's no coincidence, since it has Trek roots even beyond MacFarlane's love of the show. Star Trek: Deep Space Nine's Penny Johnson Jerald plays the doctor and the show's executive producer, Brannon Braga, also produced Star Treks Enterprise and Voyager (and co-produced the Next Generation).
It will be interesting to see if season two of The Orville manages to clarify exactly what the show is going to do and how well (if unofficially) it will bear the Trek mantle. New episodes start December 30, 2018. Fortunately, you don't need cable to check out the continuing adventures of this crew.