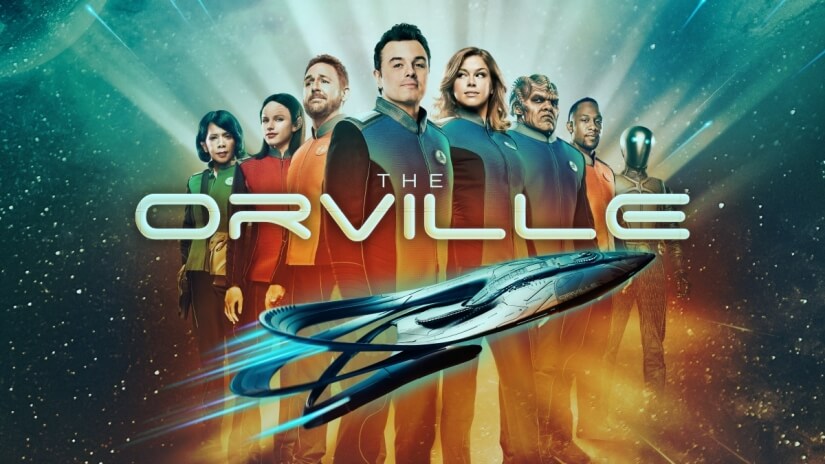 I'm throwing down the gauntlet: "The Orville" is the best Star Trek out there right now. Even though it's not Star Trek.
I know that isn't necessarily a popular opinion – but it's better than the other gauntlet, the infinity one that can wipe out half of all life, right? Maybe?
Sure, the first season of the sci-fi comedy is pretty much just Trek fan fiction by "Family Guy" creator Seth MacFarlane. He's cast himself as the space-faring captain, naturally, and is clearly loving playing his own personal version of Kirk. He's joined by his ex-wife as first officer (awkward!) and a motley crew that includes an android, aliens, and a sentient green blob.
The tone is all over the place, from corny to sentimental sprinkled with jokes aimed at fourth grade boys. But for all that, the Orville manages to pull off crucial components of Star Trek that we haven't seen in a long time.
First, and maybe most importantly, it's optimistic. The very first shot in the first episode shows a bustling, bright New York City of the 2400s full of flying shuttles and gleaming buildings whose roofs are covered in green plants. True, right after that they show an alien exploding blue snot all over a sexual partner. But regardless, right away, they establish that our current crises are fixable.
For as flashy as the "real" Star Trek is now in Discovery, it lacks that optimism. Discovery's universe is dark (literally and in tone) and full of betrayal, war, violence, and pushing hard only to be beaten down again. I didn't realize how much that depressed me until I saw "The Orville."
Beyond that, the episodes do actually try to say something about today's society. Star Trek always gave us a new perspective on current problems, most famously with the classic episode about the aliens who were half black and half white. The Orville has a rather brilliant episode about being judged on social media, taking it to the extreme on an alien planet. There's also an examination of a new baby's gender roles, when a girl is born to gay couple whose civilization is almost all male.
But before we can hold "The Orville" up as a triumph of intellectualism, we must remember that the helmsman is known for drawing male anatomy on the viewscreen. And the weird green blob's continual and persistent sexual harassment of a female character is treated as a joke, ringing a bit false in these times. As if it weren't enough to have yet another straight white man as captain (*yawn*).
Despite all that, it's nice to see aspects of Star Trek here that you can't find in actual Star Trek. And that's no coincidence, since it has Trek roots even beyond MacFarlane's love of the show. Star Trek: Deep Space Nine's Penny Johnson Jerald plays the doctor and the show's executive producer, Brannon Braga, also produced Star Treks Enterprise and Voyager (and co-produced the Next Generation.)
It will be interesting to see if season two of "The Orville" manages to clarify exactly what the show is going to do and how well (if unofficially) it will bear the Trek mantle. New episodes start December 30, 2018. Fortunately, you don't need cable to check out the continuing adventures of this crew.
How To Watch The Orville
Since "The Orville" airs on Fox, cord cutters can watch the premiere live on December 3rd using a TV antenna. If you don't want to mess with setting up an antenna, you can still watch live. Check out our guide to watching your local TV channels without cable for more information.
For those that don't mind waiting a day after new Gotham episodes air, you can try any of the options below.
Stream The Orville Online
All episodes of season one of "The Orville" are on Hulu's streaming service, which starts at $7.99 per month. Check out the free trial below. New episodes of season 2 will drop on Hulu soon after they air on Fox.
On Fox.com and the Fox app, five of season one's episodes are currently available for free, although you need a cable password to watch the first seven in that way.
Purchasing The Orville Online
To buy season one of "The Orville," the cheapest options are Amazon or Vudu, both of which offer it in HD for $9.99. YouTube, Google Play, Vudu, and Itunes offer it at $24.99 in HD. You can also pre-order a season pass for season 2 on Amazon and watch episodes a day after they air on Fox.
The first episode, "Old Wounds," is available for free on Vudu. Otherwise, each individual HD episode on Amazon Prime, YouTube, Itunes, Google Play, and Vudu costs $2.99. In SD, YouTube, Google Play, Vudu, and Itunes offer it at $1.99 per episode or $19.99 for the season.
Need More Information?
If this article didn't answer your specific question, head over to our Home Page! It will guide you to affordable internet providers, streaming services to meet your needs, information on antennas, and many more tools and resources to help you save money on TV and Internet access.
For the latest news tips and tricks on cutting the cord and other tech topics be sure to follow our Google News Feed, like our Facebook Page and Follow Us on Twitter.
Join Millions of Cord Cutters
*
Disclosure: Grounded Reason is supported by a small commission for purchases made through some product links on this website. We do not accept compensation from companies attempting to sway our review of products.