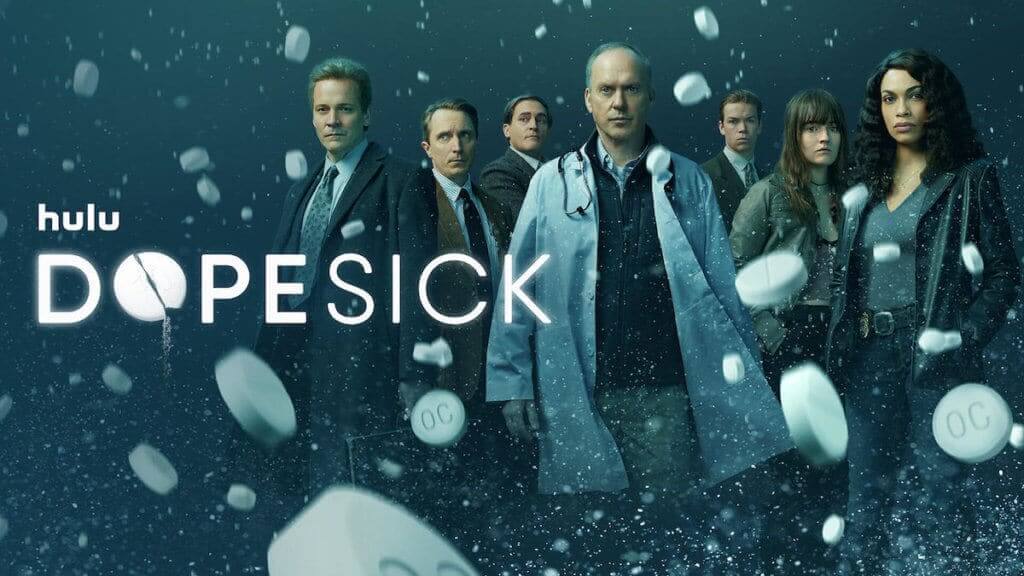 Dopesick a powerful new miniseries starring Michael Keaton is available on Hulu. Set in the early days of the opioid crisis, it chronicles the rise of oxycontin and how a pharmaceutical company triggered the largest drug epidemic in America. Keaton just took home the Emmy for Lead Actor in a Limited or Anthology Series or Movie due to his outstanding performance in Dopesick. Read on for how to watch Dopesick without cable.
How Many Episodes: Season 1 will have 8 episodes
How To Watch: Use this 30-day free trial to Hulu Streaming Library. After the free trial, the Hulu Streaming Library costs $7.99 per month.
How To Watch Dopesick
The Dopesick miniseries is exclusive to Hulu, with all eight episodes available through the subscription service. Not yet a Hulu subscriber? Read on for more.
Hulu offers a free trial month and several different monthly plans. All of them will allow you to watch every film in The Dopesick series. The plans are listed below:
Hulu (with ads): This plan costs $7.99 per month but provides an annual billing option priced at a discount. This plan is ad-supported.
Hulu (no ads): This plan costs $17.99 per month. With this plan, you get all the movies and TV shows in Hulu's streaming library commercial-free. (Due to network arrangements, Grey's Anatomy, Marvel's Agents of S.H.I.E.L.D., and How To Get Away With Murder will always have commercials).
Hulu is supported on Roku, Amazon Fire TV, Apple TV, Google Chromecast, and more. For more information on the service features and device support, please see our in-depth review of Hulu.
About Dopesick
Dopesick, produced by award-winning writer and producer Danny Strong and star Michael Keaton, looks at the explosion of the opioid epidemic in America, from its start by Big Pharma, to the heavily impacted Virginia mining town, to the DEA investigating the crisis. Inspired by the New York Times bestselling book by Beth Macy, the series stars Michael Keaton, Peter Sarsgaard, Michael Stuhlbarg, Will Poulter, John Hoogenakker, Kaitlyn Dever, and Rosario Dawson.