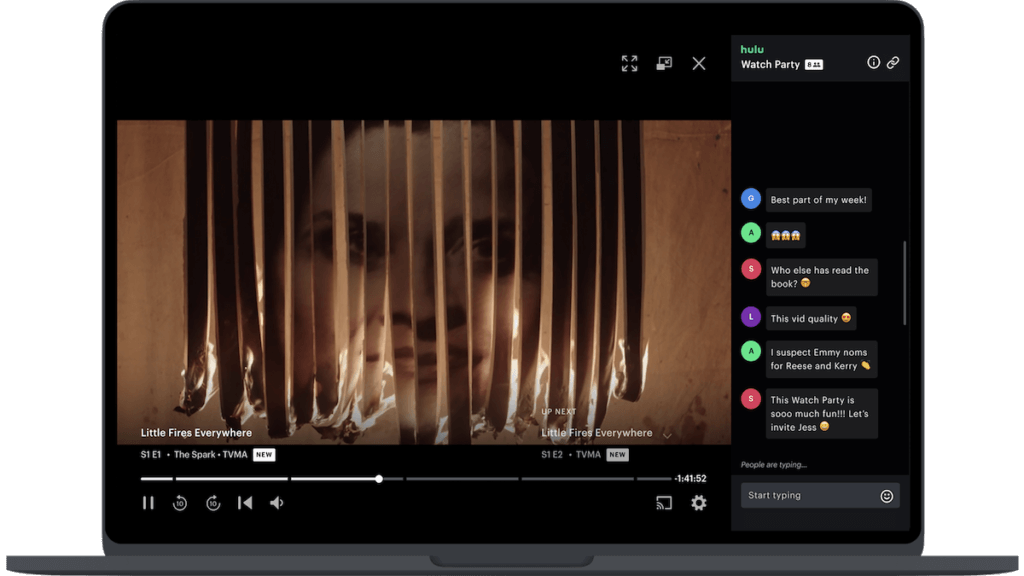 Yesterday, Hulu released its "Watch Party" feature for most on-demand content on the Hulu Streaming Library. Hulu tested this feature back in September with the Season 2 release of Pen15. Watch Party allows you to watch a movie are TV series with friends in different locations. This feature synchronizes the video, so all participants are watching at the same time. Watch Party also adds a group chat ability to the movie. Here are some important things to keep in mind about the new Watch Party feature:
Up to 8 people can join a single Watch Party session. Participants who share the same Hulu account can join through their profile.
Watch Party is only for users who are at least 18 years old. Kids profiles cannot participate in Watch Party.
Watch Party currently only works on your web browser. You can't use it on streaming devices like Roku, Amazon Fire TV, Apple TV, etc.
Thousands of on-demand movies and shows from Hulu's streaming library are available with Hulu Watch Party. Look for a Watch Party icon on the details page of movies and TV shows to see if this feature is available on the video you want to watch.
To start a Watch Party:
Visit Hulu.com on a supported web browser
Find a title available with Watch Party — look for this icon next to a video
Select the Watch Party icon on the Details page
Click Start Watching
Once in playback, select the chain icon to copy the link, then send it to other participants so they can join you
To join a Watch Party, use the invitation link you received from the Hulu Watch Party host. Remember that you must be a Hulu (No Ads) or Hulu (No Ads) + Live TV subscriber and be at least 18 years old to use the feature. 
Signing Up For Hulu
The Hulu Streaming Library provides on-demand access to full seasons of select TV shows, hit movies, and Hulu originals. You can sign up for a free trial to either of the Hulu Streaming Library plans below to utilize the new Watch Party feature.
Hulu with commercials ($7.99): This is the least expensive plan Hulu offers. It provides access to the entire Hulu streaming library. You do not get any live channels with the Hulu $7.99 plan. This Hulu plan features on-demand TV shows from network and cable TV along with all the Hulu Originals. This plan is ad-supported, so you have to watch commercials when streaming Hulu on-demand. This plan also allows subscribers to receive Hulu's 1-year for the price of 10 months ($59.99) by switching to annual billing.
Hulu – commercial-free ($17.99): For another $6 per month, you get all those movies and TV shows without commercials. (Due to network arrangements, Grey's Anatomy, Marvel's Agents of S.H.I.E.L.D., and How To Get Away With Murder will always have commercials). Again, this plan is for Hulu on-demand. You do not receive any live TV channels with the $17.99 plan
For more information on Hulu's Streaming Library and the Hulu + Live TV feature, please see our detailed review of Hulu.