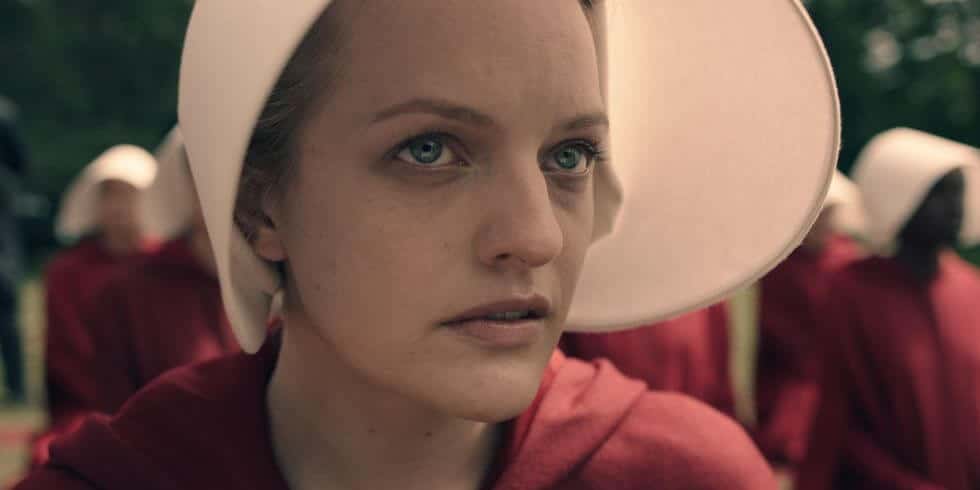 Karen Beck is a freelance writer, friend, and aficionado of science fiction and dystopian books and television. I thought she would be the perfect choice to give us an idea of what to expect from the new Hulu Original, "The Handmaid's Tale." 
Since November 9th, I've been seeing red. Not just the will of the red states, but the red of the iconic robes of "The Handmaid's Tale;" symbols of women's subjugation from Margaret Atwood's 1986 novel and now a new Hulu series.
Sure, our culture isn't quite at the level of forcing women into slavery at the end of an electric cattle prod. But these days the sickening gut punches delivered by the dystopian story–of casual brutality, of merciless totalitarianism–hit a little too close to home.
That's one reason fans like myself have recently catapulted the book onto Amazon's bestseller list and even used the robes in political protests. Next week I'll be among those signing up for Hulu for the first time just to see the new 10-episode screen adaptation. The first three premiere April 26.
Hype has been high for Hulu's series ever since fans saw images of the red robes worn by the titular Handmaiden, Offred, played here by Mad Men favorite Elizabeth Moss. Alexis Bledel, of Gilmore Girls fame, stars as fellow handmaiden Ofglen.
Stripped of their rights, forced into slavery, and made to debase themselves for the gain of the authoritarian regime of the Republic of Gilead, these handmaidens endure a terrible reality. What makes it even worse, however, is that they started as us–women living with careers and families in the United States.
Interspersed with Offred's new, stark life of servitude are scenes of what she had before. She had a normal life, complete with job, a husband, a daughter, and her own name. But all of it is stolen from her by a new regime inspired by a strict pseudo-Christianity. Everyone in Congress is shot and the act blamed on Islamic fanatics. The Constitution is suspended and newspapers censored or shut down.
All women, including Offred, are fired from their jobs and their bank accounts are emptied. She tries to run but by that point it's too late to escape. All women are forced into severely limited roles including that of handmaidens used to try to procreate in the largely sterile society. Her new life means the red robe and limitations on her every action. She must serve her new Commander (Joseph Fiennes) with sex, knowing any children she bears she will give up to him and his barren wife.
What might be most chilling is that almost everyone plays along with new system of casual humiliation and vicious punishment–even other women. Respect for freedom and kindness for others easily pass out of the culture.
When I first read the book in college, I turned into a Libertarian for a few months, chilled by the notion of how a society could take away individual rights so abruptly. But it all seemed far away. The march of progress to me seemed inevitable, despite some setbacks, with more and better rights for all being only a matter of time.
Then came November 9 of last year, when many like myself were shocked by election results which seemed to condone a part of our culture we thought was terminally archaic: racism, sexism, and cruelty towards the disabled and different.
The news on our feeds had us running for our dystopian literature and scouring it for parallels.  Suddenly, the "The Handmaid's Tale" is resonating differently. Yes, we are far from Offred's fate now, but at the same time our America is starting to feel more cruel than kind. We might be a bit further down the "The Handmaid's Tale"'s slippery slope.
And while the book itself is science fiction, Atwood said Gilead does not employ any method not used in our own world–these horrors are far from unbelievable.
But before we turn off our news notifications and hurl away our paperbacks, we have to bear in mind what any Star Wars or Hunger Games fan will tell you: these stories don't just shock or stun us, they also give us hope, even for the most extreme of times. Like the handmaidens, we find a way to survive and thrive, and to teach the lessons we know our children need to learn.
Hulu's series is hitting the American zeitgeist just at the right time, with all of our handmade signs from the Women's March still perched in our garages. The show brings a vivid color palette and a beautiful but haunting cinematography to the story, with the promise of twists and modernizations to help us appreciate it all the more.
How To Watch The Handmaid's Tale
There are a variety of cable-free ways to join in and watch it, including Apple TV, Roku, Chromecast, and Amazon Fire TV. Hulu offers a deal in which you can watch for free for 30 days if you are a new customer, which I'll be using to watch at least the first few weeks' worth of episodes. Chances are excellent I'll go ahead and subscribe, however, to see the rest–taking part in a support group of other fans who, like Offred, take to heart the message left for her by another handmaiden: "Nolite te bastardes carborundorum," or "Don't let the bastards grind you down."