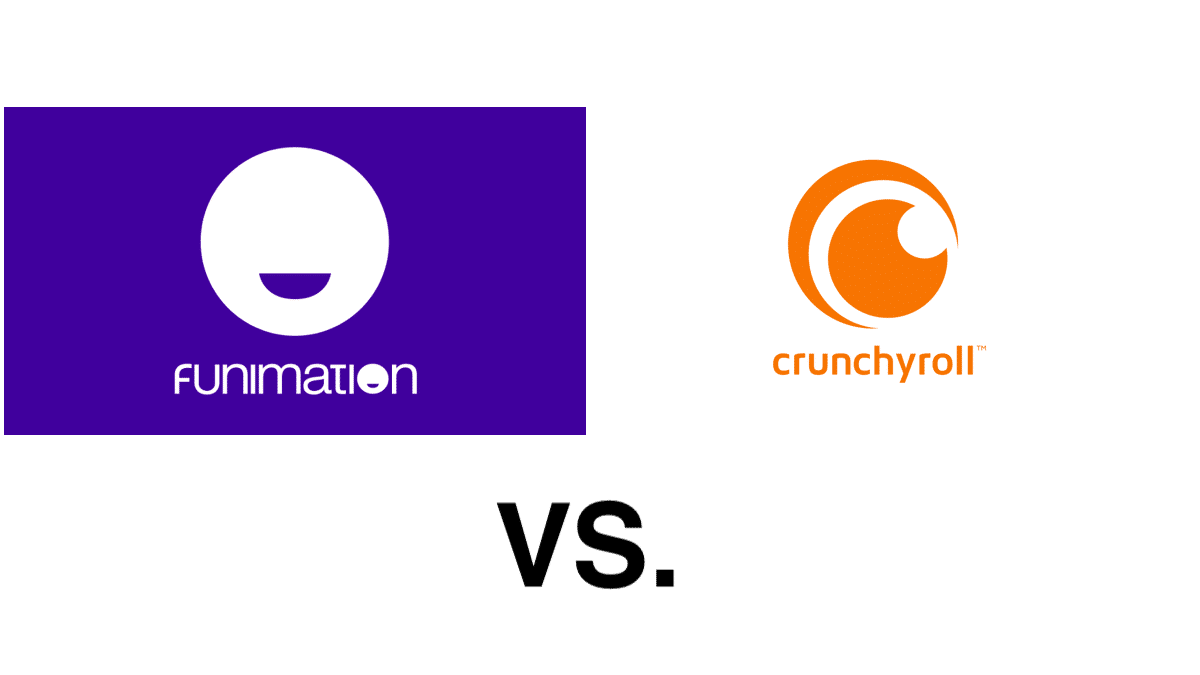 There are few streaming services available that offer anime, but Crunchyroll and Funimation set them apart from the rest by offering massive anime catalogs for fans to enjoy. This article will compare the anime libraries, features, and pricing of both services to see which one you should choose based on your anime viewing preferences. I want to make you aware that this website receives a commission from Funimation if you sign up for Funimation through links on this page. However, I did not let this sway my comparison of both products and even highlight scenarios where you choose Crunchyroll over Funimation.
Summary: Funimation is more affordable than Crunchyroll but with a slightly smaller library of Anime. However, Funimation focuses on getting high-quality dubs in English quickly while also carrying episodes subtitled. So if you want English dubs of anime fast, then choose Funimation. If you enjoy your anime in its original Japanese with English subtitles, then subscribe to Crunchyroll. Below is a summary list of how these services compare in a range of categories.
Price: Funimation's lowest price plan is $5.99 per month with a 2-week free trial. Crunchyroll plans start at $7.99 per month after a 2-week free trial. Both allow you to watch some episodes free.
Content: Crunchyroll boasts the bigger anime library with over 1100 titles to Funimation's 750+ titles.
How Many Devices at Once: Funimation's $5.99 plan allows you to watch on 2 devices at once. However, they have a $7.99 per month plan that allows you to watch on 5 devices at once. Crunchyroll's starter plan only allows 1 stream at a time. Crunchyroll has a $9.99 plan that allows 4 simultaneous streams and a $14.99 plan with 6 simultaneous streams.
Offline Viewing: Both services have a plan that allows you to download episodes for offline viewing. This feature is available in Funimations $7.99 plan, while Crunchyroll allows offline viewing in their $9.99 plan.
Video Quality: Both stream in both 1080p and 720p HD
Biggest Difference: Funimation has more dubbed content and is more affordable. Crunchyroll has a larger library. However, your choice may ultimately come down to which anime you want to watch and which service carries it.
Which Has The Better Anime Library
Crunchyroll has a substantially larger number of titles than Funimation. As of this article's publish date, Crunchyroll has over 1130 anime titles, while Funimation had over 720. Those counts only include anime titles. Crunchyroll also has original shows and Japanese dramas, which I excluded from the title count. Funimation only offers anime.
The type of anime you find on each service varies. Crunchyroll has a much larger library of titles you won't find on Funimation like Jujutsu Kaisen, Hunter x Hunter, KonoSuba, and Haikyu!. That said, Funimation does have a few popular titles you won't find on Crunchyroll like Horimiya, Wonder Egg Priority, SK8 the Infinity, Cowboy Bebop, Initial D. However, most popular titles like Demon Slayer, Attack on Titan, My Hero Academia, JoJo's Bizzare Adventure, Bleach, and Naruto can be found on both services.
What sets the services apart is your preference for watching anime subtitled or dubbed. Crunchyroll's larger library is mainly focusing on showing anime in its original Japanese with English subtitles. On the other hand, Funimation focuses on providing anime that is both subtitled and dubbed in English for those not wanting to read subtitles.
Subtitled versions of Anime episodes appear very quickly on both services after they air in Japan, sometimes even same day. However, due to the time it takes to produce a dubbed episode, there is a 1-2 week delay for dubbed episodes to appear on Funimation for popular titles. It can be longer for more niche anime.
Prices and Plans
Both Crunchyroll and Funimation offer some content for free and in HD. Both require you to watch ads during episodes. However, if you want to eliminate the ads and have access to all the content available, both services offer a few upgrade plans:
Crunchyroll
$7.99 per month: Unlocks all episodes on Crunchyroll with no ads. You can stream on 1 device at a time, and simulcasts from Japan will be available as soon as 1 hour after the Japanese broadcast
$9.99 per month: Everything in the previous tier adds the ability to download shows for offline viewing. You can also stream on up to 4 devices at once.
$14.99 per month: Everything in the previous tier, but lets you stream on 6 devices at once.
Crunchyroll also offers benefits with their merchandise store with the $9.99 and $14.99 plans. See our review of Crunchyroll for more information. You can sign up for any of these plans on their website.
Funimation
$5.99 Per month: Unlocks all content on Funimation with no ads and allows you to watch on 2 devices at once.
$7.99 Per month: Provides everything in the previous tier, but you can stream on up to 5 devices at once and download shows for offline viewing.
You can sign up for either of these plans here. For in-depth information on this service, check out our review of Funimation.
User Interface and Features
Both services stream in 1080p and 720p HD and support iOS and Android devices, Chromecast, Apple TV, Roku, and Amazon Fire TV devices, as well as an array of PlayStation devices and Xbox. Funimation does offer support for Samsung smart TV, LG smart TV, and VIZIO Smartcast.
As far as the apps compare, Funimation is a bare-bones streaming app with a great search function and watch queue. It works well for watching anime and doesn't offer a lot of extended features. Crunchyroll's app offers watchlist features and more information on the title screen, but the UI does feel a little cluttered. The Crunchyroll app also provides more than one profile which is good for multiple users in one household.
Both apps are equally responsive and haven't presented any video or sound quality issues upon use. Streaming is fast with no buffering when using the recommended internet connection. Both offer some level of parental controls to avoid mature content.
Which Is Better For Anime Fans
For most, the choice will come down to which anime you want to watch. The major distinction is the availability of dubbed episodes. Crunchyroll focuses on subtitled anime. It's a little more expensive but has a larger library of anime. Funimation is more affordable with less content but focuses on anime dubbed in English and subtitled anime. If you enjoy your anime in its original Japanese with English subtitles, then subscribe to Crunchyroll. If you want your anime dubbed in English, then go with Funimation.
Need More Information?
If this article didn't answer your specific question, head over to our Home Page! It will guide you to affordable internet providers, streaming services to meet your needs, information on antennas, and many more tools and resources to help you save money on TV and Internet access.
For tips and tricks on cutting the cord and other tech topics be sure to join our Facebook Page.
Join Millions of Cord Cutters
*
Disclosure: Grounded Reason is supported by a small commission for purchases made through some product links on this website. We do not accept compensation from companies attempting to sway our review of products.