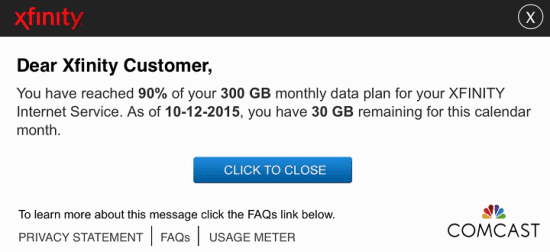 Update: Comcast has announced it will raise the data usage cap on June 1st 2016.
If you haven't heard, Comcast is rolling out data usage caps on its XFINITY Internet customers. The caps will start with all residential XFINITY customers not on the fiber 505 or Gigabit Pro plans in the following areas:
Huntsville, Mobile and Tuscaloosa, Alabama
Tucson, Arizona
Little Rock, Arkansas
Fort Lauderdale, the Keys and Miami, Florida
Atlanta, Augusta and Savannah, Georgia
Central Kentucky
Houma, LaPlace and Shreveport, Louisiana
Maine; Jackson and Tupelo, Mississippi;
Chattanooga, Greeneville, Johnson City/Gray, Knoxville, Memphis and Nashville, Tennessee
Charleston, South Carolina
and Galax, Virginia
For most of these areas, data caps will limit data usage to 300 GB per month. If you exceed 300 GB then you have to pay a $10 fee for each 50 GB increment you go over the cap.
Comcast has stated that you can pay an additional $30 – $35 dollars a month to avoid the data cap. However, they will keep the money whether you go over 300 GB a month or not. If you are a Comcast customer and are concerned about hitting the cap you can check your Xfinity data usage.
These practices will severely limit people's ability to consume video over the internet. Some may say that this policy is due to congestion on the network hindering performance, but a leaked memo from Comcast admits this isn't the case.
What Can You Do About It?
Even if you do not live in the areas currently affected, I would look into ditching Comcast or at the very least, write the FCC. If you are a Comcast Customer, it is likely only a matter of time before you're affected.
If you are a cord cutter not using Comcast, this still has the potential to affect you. If this business model works for Comcast it's only a matter of time before other ISPs try something like this.
If you live in these areas and rely on your internet connection to watch TV without a cable TV subscription, then you need to take steps to avoid spending a small fortune for Internet access.
File A Complaint with the FCC
The FCC listened to our demands for a a free and open internet.  Considering that these caps will place limits on people that only have one choice for an ISP, I see no reason why they wouldn't listen again.
Filing a complain with the FCC against Comcast data caps only takes a minute.  Here are the steps. .
Go to https://consumercomplaints.fcc.gov/hc/en-us  and under "Internet" (beneath the picture of the globe)  select "File Complaint"
Fill in the required information. Be sure your complaint description  is a personal account of how this affects you.
Make sure Comcast is selected as the company, and "Open Internet/Net Neutrality" as the issue.
That's It! Spread the word on how to do this and we will convince the FCC to shut down the data usage caps.
Find A New ISP
If you have more than one provider in your area, then I would jump ship and ditch Comcast. I know many find it hard to pass up the cheapest bargain, but I feel paying slightly more is worth it in this case.
I have Verizon and Comcast XFINIY in my area, and while Comcast is the slightly cheaper option, I have a FiOS internet only plan due to Comcast's business practices. I know Verizon has it's issues as well,  but at least there are no caps on my data usage.
If you need help finding an ISP, DSLreports has a great resource to find ISPs in your area. Act now, and put an end to data usage caps before it's too late.
Check Out How To Get Gigabit Internet and Free Netflix
If you enjoyed this article, please Subscribe to our weekly newsletter. It goes out every week and keeps you up to date on information relevant to cord cutters. Subscribing will also inform you on the latest deals out there for internet, streaming, and more.
If this article didn't answer your specific question, check out the Cord Cutting Guide. It provides links to the most important articles in our over 200 pages of content to help you ditch pay TV.
For tips and tricks on cutting the cord and other tech topics be sure to join our Facebook Page and follow us on Twitter @Grounded Reason
.