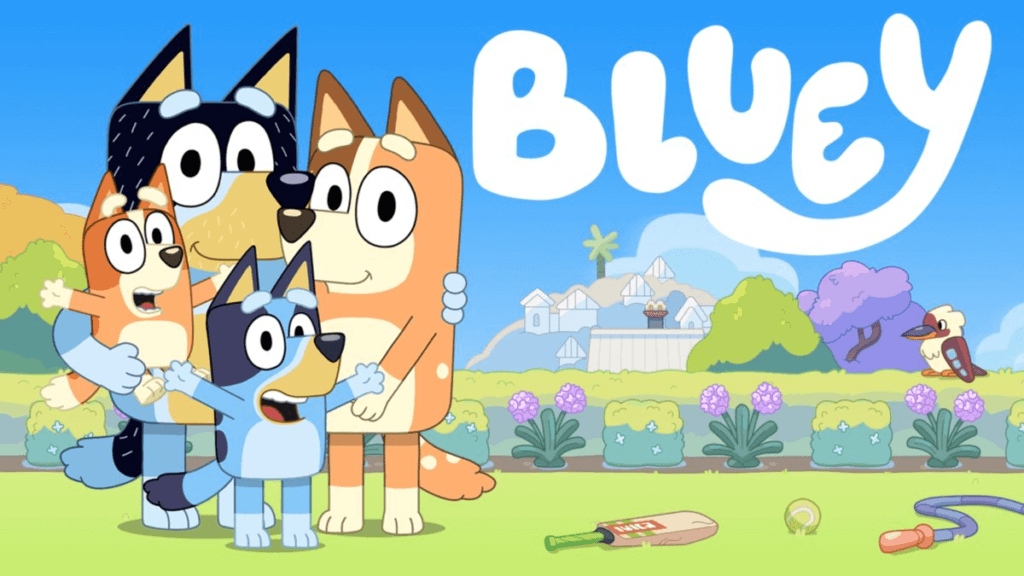 Bluey is an Australian children's show about a cattle dog puppy full of energy, imagination, and curiosity about the world. There are plenty of kids' shows about imagination, but Bluey nails the pretend world we all enjoy as kids better than any show I've watched. You really have to watch it to grasp what I mean. The show is so good that Rolling Stone called it one of the best shows on TV. Not "best kids show," but "best show," period. Read on to learn how you can watch both seasons of Bluey now.
Where to Watch Seasons 1 of Bluey: All 52 episodes of Bluey Season 1 are available on Disney+ to stream now (sign up).
Where to Watch Seasons 2 of Bluey: All 52 episodes of Bluey Season 2 are available on Disney+ (sign up).
Where to Watch Bluey Season 3: Half of season 3 of Bluey has been released on Disney+ (sign up). Currently, there isn't an official release date in the US for the rest of season 3. However, those episodes will be airing in Australia in April 2023. The past 2 seasons took nearly a year to land on Disney+. Hopefully, we won't have to wait too long for the rest of season 3.
Episodes are only 8 minutes each, so while there are over 100 episodes available on-demand, it isn't nearly a daunting task to catch on every Bluey episode.
Where To Stream Bluey
Every episode of Bluey available in the US is streaming on DIsney+.
Watch Bluey on Disney+
Disney+ is the most affordable way to watch Bluey. All of season one and two and most of season 3 are available, and you can watch on you TV by subscribing to Disney+ and downloading the Disney+ app to your Smart TV or TV-connected streaming device. You can learn how in our article: How To Watch Disney+ on TV. A subscription to Disney+ costs $7.99 per month, but you do not need to sign up for a long-term contract and can cancel whenever you like. Disney+ is supported on the following devices:
Roku – (Watch Disney+ on Roku)
Roku TVs – (Watch Disney+ on Roku TV)
Amazon Fire TV Cube and Fire TV Stick (All Versions)
iPhone, iPad, iPod touch (iOS/iPad OS 11.0 and later)
Apple TV (4th gen or later and Apple V 4K running tvOS 11.0 and later)
Chromecast
Android phones and TV devices (Android OS version 5.0 Lollipop or later)
Playstation 4 – (Watch Disney+ on PS4)
Xbox One
Some Vizio Smart Cast TVs (Watch Disney+ on Vizio Smart TVs)
Sony Smart TVs (Android based)
LG WebOS Smart TVs
Samsung Tizen Smart TV
For more information on this streaming service see our article Everything You Need to Know about Disney+.
Other Ways to Watch Bluey
Bluey is aired quite frequently on Disney Channel, so if you have any of the streaming services below, you should be able to find episodes of Bluey to watch on-demand or through the Disney Now app. You can see our article on how to watch the Disney Channel without cable for more information, but I've summarized the services that carry the channel below. Any of the logins for those services should also unlock the "Disney Now" app (different from Disney+), where you may find some episodes.
Hulu Live TV – Includes Disney Channel in its lineup. They offer a 7-day free trial. See our review of Hulu Live TV for more information.
YouTube TV – Offers Disney Jr. among other channels for $72.99 per month after a free trial. Check out my review of YouTube TV for all the channels they have to offer. Your YouTube TV credentials can be used with Disney Now.
DIRECTV STREAM – Offers Disney Channel "Entertainment" package for $79.99 per month. Check out my review of DIRECTV STREAM or DIRECTV STREAM's website for all the channels they have to offer.
Sling TV offers access to Disney Channel as a part of their Orange Package for $40 per month. Sling TV offers promotional pricing for new customers.
FuboTV offers over 90 channels in its Pro Plan, Including Disney Channel, Disney Junior, and Disney XD for $74.99 (after 7-day free trial). The FuboTV app is available on major platforms, including Apple TV, AndroidTV, Roku, and Amazon FireTV. You can sign up for fuboTV or check out our review of FuboTV for more details.
Vidgo also offers Disney Channel, Disney Junior, and Disney XD for $69.99/month. Vidgo doesn't force you into a contract so you can cancel any time. They do offer promotional pricing, and you can cancel within the first three days at no charge. Vidgo is supported on available on Android, iOS, Roku, Apple TV, Fire TV. You can also stream the service on up to 3 devices at the same time. We have the full details in our guide to Vidgo's live streaming service.