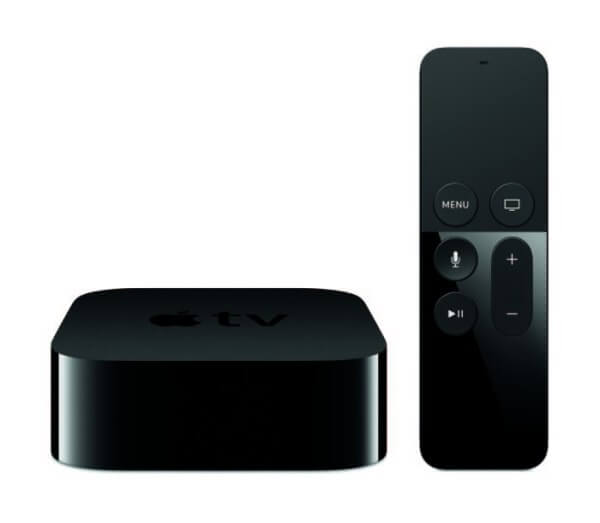 Slated for release in late October, the new Apple TV is a feature overhaul of its predecessor with upgrades to Apple TVs hardware and software with the addition of voice control and even gaming functionality. Here is what we know so far. . .
Hardware Upgrade
There are two versions of the new Apple TV, with the main difference being 32GB or 64GB of built in internal storage.  This is a considerable upgrade over the 8 GB of storage in the previous iteration of Apple TV.
The new Apple TV also uses the same 64 bit A8 processor used in the iPhone 6. This is considerably faster than the A5 chip used in the 3rd generation Apple TVs. The new Apple TV will be compatible with 5GHz 802.11ac WiFi Routers, which will add a considerable boost to in home WiFi connection speeds.
While the latest Apple TV supports 1080p video at up to 60 frames a second, it will not support the newer 4K UHD streaming standard (2160p). While many in the press have criticized Apple for this, the 4K standard is still rapidly changing. It's a reasonable decision to wait for stability in the standard before making it available on your flagship streaming device.

Apps And Games
One of two major feature additions on display at WWDC was Apple TVs new operating system introduced as tvOS. The new operating system allows Apple TV apps to work on iPhones and iPads. This creates a universal feel when it comes to streaming apps on Apple's suite of devices.
The hardware upgrades along with tvOS allows the new Apple TV to leverage an app store providing the ability to add apps to your Apple TV. This adds functionality many felt were lacking in previous iterations of Apple TV. An App Store also provides the potential for a much more personalized Apple TV experience.
The Apple TV App Store allows the installation of games on the New Apple TV. Furthermore, due to the new tvOS, games like Beat Sports will have multiplayer functionality with iPhone and iPad.
Other games coming to the new Apple TV are Star Wars, Guitar Hero, and Crossy Road. Apple TV will also allow the usage of certified 3rd party game controllers. So you won't be stuck gaming with an Apple TV remote.
Voice Control
Apple's mobile digital assistant, Siri, is another big part of the new Apple TV. Voice control has been sorely lacking in previous versions of Apple TV and Siri is a perfect fit to eliminate the need to type those tedious TV search queries.
Siri will also search a number of native TV apps for programing. For instance, if you ask,  "Show me comedy TV shows", your results will span not only iTunes, but  Hulu, Netflix, HBO, and Showtime as well.
Siri's natural language capabilities allow users to ask Siri to "show me that episode of Modern Family with Edward Norton" and get the result you want. You could even ask Siri, "What did she say" and Siri will skip back 15 seconds and turn the captions on for you. Siri on the new Apple TV appears to break new ground in the realm of voice control for your TV streaming device.
Cost
While there is plenty to get excited about (and I did not even mention that Apple is planning to launch a streaming TV service next year), the price for the New Apple TV is considerably higher that what you are used to paying for a TV streaming device. While this could change, current indications point to the 64 GB version of the Apple TV will cost $199, while the 32GB version will cost $149.
Wait For the Full Review
While this all sounds great, I would not run out and pre-order one just yet. I plan to get my hands on one as soon as I can. So, stay tuned for my full review of the New Apple TV.
For information on how streaming devices like the New Apple TV can save you time and money, check out my post on Watching TV without Cable.
Need More Information?
If this article didn't answer your specific question, head over to our Home Page! It will guide you to affordable internet providers, streaming services to meet your needs, information on antennas, and many more tools and resources to help you save money on TV and Internet access.
For tips and tricks on cutting the cord and other tech topics be sure to join our Facebook Page.
Join Millions of Cord Cutters
Disclosure: Grounded Reason is supported by a small commission for purchases made through some product links on this website. We do not accept compensation from companies attempting to sway our review of products.