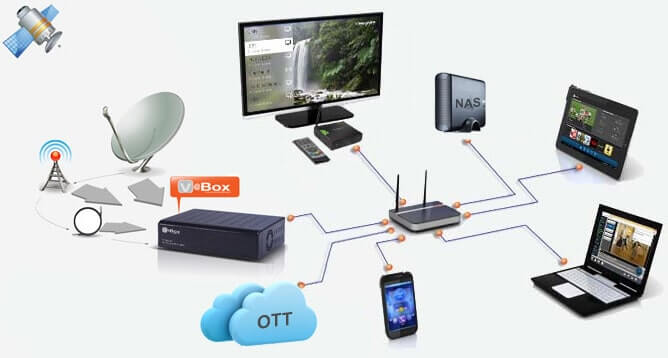 TiVo recently removed the monthly subscription from it's Roamio. This move was such an improvement that I now recommend it as the best DVR if you're without cable. (If you're interested in it's DVR capabilities check out the link. This post is about using it an all in one solution to replace cable.)
While this device is great for recording network TV from your antenna, it's so much more for someone who is willing to sacrifice a few streaming options for the luxury of an all in one solution to cut cable TV. Today I'm going to describe what you need to put together that solution.
Who This Solution is For
This post describes a solution for those looking to get rid of cable because they feel they aren't using it enough to justify the cost. I'll describe how to get all your network TV with no monthly cost. Cable  TV shows can be watched as well, but they slightly increase the total cost of the solution.
While this solution allows you to to watch the NFL without cable through local broadcast networks, avid sports fans may want to check out my post  on how to watch sports without cable instead.
The Equipment You Need
For this solution to work you will need the following:
A TV Antenna; I recommend an outdoor antenna for the best reception. I use the Mohu Sky 60.
The TiVo Roamio OTA DVR; Make sure it's the 1TB version as that's the version that comes with the lifetime guide subscription. It's currently available from Amazon.
(Optional) A subscription to Amazon Prime.
How it Works
The TV antenna and Roamio will provide on demand access for all your broadcast TV networks. Together, they provide channels like ABC, NBC, CBS, FOX, PBS and more. My outdoor antenna provides us with 48 channels, for free over the air.
You're probably thinking; "That's great Dennis, but what about cable TV shows like The Walking Dead and Better Call Saul?" Well, the Roamio comes with a couple of streaming apps. Most importantly it comes with Amazon's Instant Video Player, allowing you to purchase and watch the current season of just about any cable TV show online.
An entire season pass of "The Walking Dead" cost $25 in standard definition. Therefore, if you follow five cable TV shows in a year,  they would cost about $150 per year or roughly $10 per month. Considering your network TV is covered, this is all you would pay monthly. Ultimately, with this solution you are paying for only what you watch.
Additional TVs
Adding a TiVo Stream provides the power to stream your DVR to mobile devices and Amazon Fire TV via a downloadable TiVo app. Purchasing an Amazon Fire TV Stick for each additional television would be the most affordable way to add additional TVs. The Amazon Fire TV Sticks would also provide a means to use streaming apps not available on the TiVo Roamio.
Optional Streaming Packages
TiVo Roamio comes with the ability to stream through the following apps: Amazon, Netflix, Hulu, Vudu, YouTube, and Plex.  I personally recommend Amazon, due to all the additional benefits of Amazon Prime. Remember, some of these apps require a monthly subscription cost.
Total Cost
The TiVo Roamio and Mohu Sky will cost about $525 dollars up front. That may seem expensive, but considering a basic network TV bundle with a DVR from a pay TV provider will run about $50, you will break even in about 11 months. From there on out you don't have to pay for anything. The most compelling part of this solution is the flexibility. Consider the following:
Live and On demand Network TV is free.
While you have to purchase Cable TV shows, it's very affordable at $25 for an entire season of a show. Also, you own the season of the show so you can watch it whenever and as much as you like.
You can add Amazon Prime for $8.99 per month if you want a huge back catalog of streamable TV and movies.
If you decide that you will not be doing any streaming, you can get the cheapest internet connection available. You only need a limited connection to use the TiVo guide function.
If you need to add additional TVs to the solution; the first additional TV has an upfront cost of around $140 dollars (The cost of the TiVo Stream and Amazon Fire TV Stick.) Each additional TV after that will cost an additional $39 for the Amazon Fire TV stick. Considering an additional cable box costs about $10 per month you are quick to break even on additional TVs.
Bottom Line
While this solution has a fairly high upfront cost compared to something like Roku, the break even point comes in the first year when compared to the same solution with cable. After that, you are watching free television. You also have the option to add content and multiple TVs at an affordable price.
Photo Credit: By Shassaf – Own work, CC BY-SA 4.0