Dennis is the editor in chief at Grounded Reason. Before writing about using technology to save you money he spent 20 years working in the tech sector as a sysadmin, an analyst, and an enterprise architect.

Latest posts by Dennis Restauro (see all)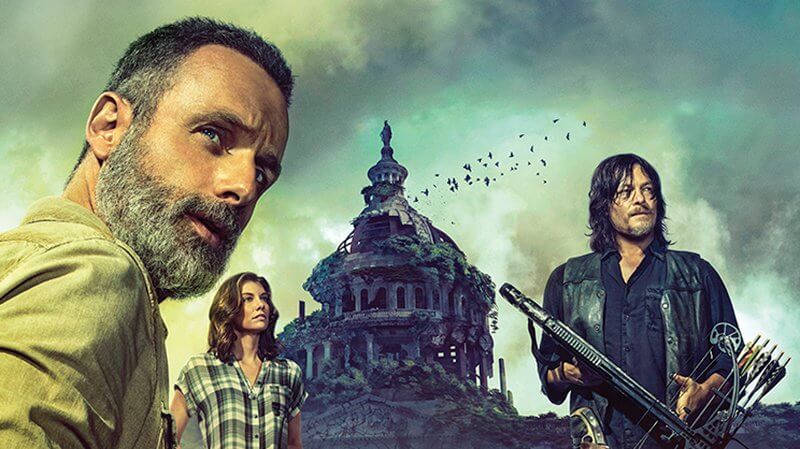 I love "The Walking Dead."  I've read the comics and watched every episode of the hit TV show. I even make imaginary judgment calls by inserting the backdrop of a zombie apocalypse into a given situation. By the way, always pick the bicycle as your mode of transportation when the biters rise.
It doesn't need gas. Furthermore, it's a way to stay in shape, and it's easily carried over and around obstacles. Of course, the bike only works when talking about real shambling zombies. Movies, similar to "28 Days Later", where getting "infected" turns a person into a zombie Usain Bolt require a much different tact.
Now my friends know not to engage me in a conversation about zombies, lest they lose an entire afternoon discussing our strategy for the first 2 hours of a zombie outbreak. However, my friends know my love for the genre, and can't stop themselves from asking how I live without cable during seasons of "The Walking Dead."
When Does The Walking Dead Return
The Season 9 premiere of the Walking Dead will be on Sunday, February 10th at 9 pm ET.   Communities are being rebuilt in the "walker" apocalypse and a new threat surfaces after the longest time of peace since Rick awoke in that hospital bed so many years ago. Below are the channels and services where you can watch The Walking Dead.
Where to Watch 'The Walking Dead'
The Walking Dead is on AMC at 9 pm EST on Sundays. Also,  the midseason premiere is currently available for AMC Premiere subscribers.. If you do not have cable or satellite TV, you can watch the rest of this season of The Walking Dead online using the sources listed below.
The Walking Dead On Philo
Philo is one of the newer streaming services to enter the market and it's also one of the cheapest. The service aims at providing value by carrying entertaining channels without expensive sports programming. One of those channels is AMC. At $20 per month, it is now the most affordable way to watch The Walking Dead without Cable. You can sign up for their free trial or read more about them in our review of Philo.
Philo is currently supported on Mac and PC on a web browser, Apple iPhone and iPad (running iOS 9 or newer), Android phones and tablets (running 5.0 or newer), Fire TV, Apple TV, and Roku. You can also stream Philo to your TV with Chromecast.
This service is currently the cheapest way to watch AMC without cable. Once you have a subscription to Philo you can watch through their service or use your login information to use the AMC app.
The Walking Dead on Sling TV
The easiest way is through Sling TV, which provides access to AMC without a cable subscription. Sling TV Also Provides access to ESPN, ESPN2, ESPN3, TBS, TNT, CNN, Food Network, Cartoon Network, ABC Family, A&E, History Channel, Disney Channel and much more for $25 per Month.
That's a great value considering that those are the most watched cable TV networks. There is no contract required and you get a 7-day free trial.
The best part is having access to all of AMC's programming so you can catch "Talking Dead" with Chris Hardwick after The Walking Dead premiere. It's just like having AMC though cable, but without all the hassle and expense of cable TV. You get to watch the show live with everyone else.
Buy The Latest Season of The Walking Dead Online
Shows can be purchased the day after airing from iTunes or Amazon for just $1.99 per episode for standard definition. It's $2.99 to buy the episode in HD. They even offer to purchase the entire season of a TV show for approximately $30.
For those interested in watching season 9 of "The Walking Dead", a season pass or individual episodes can be purchased through my affiliate link below. Once purchased, it can be enjoyed on a tablet or television by simply logging into the Amazon App with the same account used to purchase the show. For more information on streaming cable TV shows, check out my guide on watching TV without cable.
Click Button to Purchase and Watch on Any Device
"The Walking Dead" – Full Ninth Season
Typically, when I say this, people balk at paying. However, they're forgetting that I'm not paying $150 per month for a triple play package. That allows me to craft my TV experience by supplementing my $10 a month Netflix subscription with hit cable TV shows airing right now.
For instance, let's assume 5 shows we watch per year aren't available on Netflix. Remember, these are cable TV shows. Anything on broadcast networks can be viewed on TV in HD by using an antenna.
Season passes to these 5 shows will cost $150 dollars. Break that down over 12 months and the cost is only $12.50 a month for the added content. Furthermore, these aren't rentals. We are purchasing the content, allowing episodes to be watched whenever one pleases.
People that buy their favorite shows on Blu-Ray can factor this in as an additional cost saving. Plus, the content's available the day after episode airs, which means not waiting a year for the Blu-Ray release.
Adding the Netflix subscription and my antenna brings the cost of all my TV content to $22.50. I'd consider that an unbeatable value. A person can essentially build their entire TV viewing solution for the cost of an HBO subscription.
Ways to Watch AMC Without Cable
Philo and Sling TV are the most inexpensive way to watch The Walking Dead if you don't have cable. However, there are a few other streaming services that carry AMC allowing you to watch The Walking Dead. Reviews of each service are linked below.
Where to Watch Past Seasons of The Walking Dead
There are a few services that air past seasons of The Walking Dead Online if you want to binge watch this amazing show.
The Walking Dead on Netflix
Seasons 1-8 are available for streaming through Netflix. If you are just getting into the show, this is a great way to catch up. It's also a good way for fans to get a refresher of what happened last season. If you aren't a Netflix subscriber you can always purchase past seasons through the Amazon, iTunes, Xbox Live and Google Play.
Purchase Past Seasons of the Walking Dead
Is The Walking Dead On Hulu?
Unfortunately, The Walking Dead isn't available on Hulu. However, you can watch the spinoff Fear The Walking Dead there.
Need More Information?
If this article didn't answer your specific question, head over to our Home Page! It's designed as a guide to our most important articles to help you ditch pay TV.
For tips and tricks on cutting the cord and other tech topics be sure to join our Facebook Page and follow us on Twitter @Grounded Reason.
Grounded Reason Top Deals of The Month
With 58 live channels and a cloud DVR for just $20 per month, Philo TV is one of the best deals you 'll find online. Try a Free Trial to Philo Now! No credit card required!
Looking for high-speed Internet? Right now you can get 100 Mbps for $39.99 per month. Sign up now and get a a $50 prepaid Visa Card.
Join Millions of Cord Cutters
Disclosure: Grounded Reason is supported by a small commission for purchases made through some product links on this website. We do not accept compensation from companies attempting to sway our review of products.