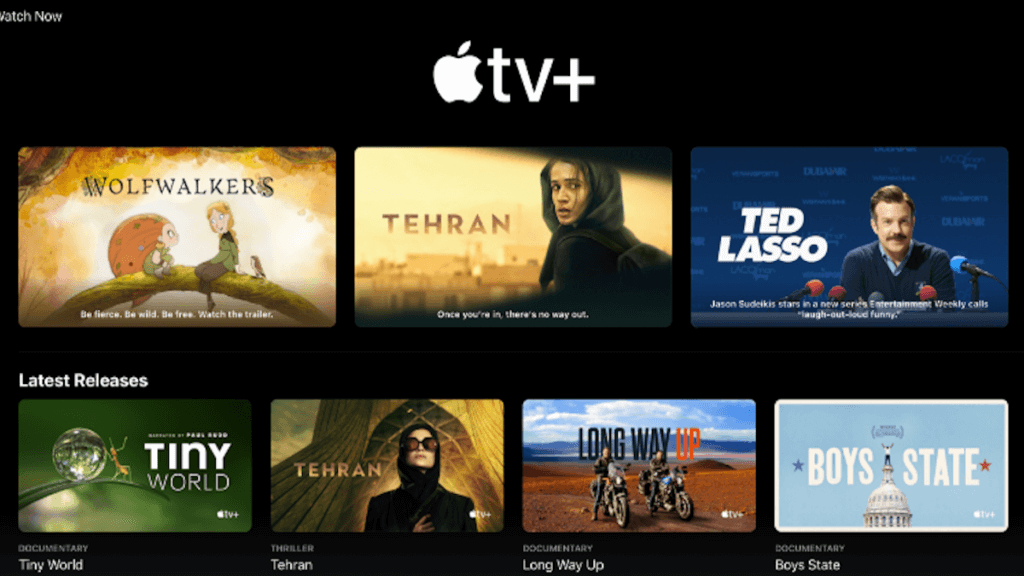 When Apple TV+ launched, it had nine programs on debut day, with several more set for the following months or in development over the first year. These covered a wide swath of genres, including science-fiction, crime drama, and several anthology series. The service has indeed kept up with a promise of extensive new programming, with now over 75 series, as well as a handful of original films. Biggest names? Critic darling Dickinson, fan-favorite Ted Lasso, and the Academy Award-winning Best Picture CODA.
We've gone through and outlined the lowdown on the best series on Apple TV+, including documentary series. You can also check out a separate piece of just all of the kids' programming the service now offers.
Our ratings are based on a blend of our hot takes, general buzz, and Rotten Tomatoes scores (the two percentages, noting critical and audience response, respectively).
Apple TV+ Original Series
Ted Lasso – (94%/78%), 2 seasons, renewed
This endearing fish-out-of-water comedy is surprisingly good and a much-needed laugh. Ted Lasso (Jason Sudeikis) is a small-time American football coach hired to coach a premier soccer team in the UK, and naturally, antics ensue. The show's success is largely driven by Lasso's deep heart and almost continual cheerfulness, as well as the fact that even the most superficial-seeming characters end up being well-rounded. Ted Lasso was developed into the series by Bill Lawrence (Scrubs, Cougar Town), Sudeikis, Joe Kelly, and Brendan Hunt. See our article Where You Can Watch Ted Lasso for more.
Acapulco – (100%/90%), 1 season, renewed
Máximo Gallardo (Enrique Arrizon) has always dreamed of being successful, starting off with working as a cabana boy at the hottest resort in Acapulco. And while navigating his complicated clientele, mentor, and home life may be harder than he thought, his charm and wit will get him far.
Pachinko – (98%/95%), 1 season, renewed
Based on Min Jin Lee's New York Times bestselling novel, this series chronicles a Korean immigrant family across four generations, from a small Korean fishing village to eventual emigration to Japan. It deals with the quest to survive and thrive through persecution, and often addresses the racism and stereotyping that was the Korean experience with the Japanese.
Severance – (98%/93%), 1 season, renewed
Adam Scott plays Mark Scout, team lead at Lumon Industries, whose employees have undergone a severance procedure to separate their work and personal lives through a surgical divide in their memories. However, Mark soon finds himself at the center of a much darker mystery behind the procedure, and those that seek to break from it.
Mythic Quest: Raven's Banquet – (95%/86%), 2 seasons, renewed
Created by Rob McElhenney and Charlie Day (It's Always Sunny in Philadelphia), Mythic Quest: Raven's Banquet is a workplace comedy about a team of video game developers of a leading multiplayer online fantasy game. It's clever and silly, and so far the right blend of office humor and creative goofiness. The show stars McElhenney as the game's eccentric, egotistical creator, as well as Danny Pudi (Community), Charlotte Nicdao (Please Like Me), David Hornsby (It's Always Sunny…, Good Girls), and F. Murray Abraham (Homeland).
Central Park – (97%/75%), 2 seasons, renewed
From the creator of Bob's Burgers comes an animated musical comedy, Central Park, about the lives of a family living in Central Park and their quest to save it from a greedy land developer. The story is narrated by Birdie (Josh Gad), a busker in the park. Gad co-created the show. It also stars a bevy of vocal talents, including Hamilton's Leslie Odom Jr. and Daveed Diggs, Tituss Burgess (Unbreakable Kimmy Schmidt), Kristen Bell, and Katheryn Hahn and Stanley Tucci.
Calls – (95%/85%)
A collection of nine chilling short stories are told through minimal abstract visuals and primarily audio in this immersive television experience. Each episode follows a dark mystery that unfolds through seemingly unconnected phone conversations. The celebrated cast includes Lily Collins, Rosario Dawson, Pedro Pascal, Aubrey Plaza, and more.
Shining Girls – (83%/88%), 1 season
This thriller is the story of Kirby Mazrachi (Elizabeth Moss), a newspaper archivist who survives a brutal attack that plunges her into shifting realities. As things repeatedly change around her, she is pulled back towards her attacker after a woman is found murdered in a similar manner to her attack. Can she help uncover the mysterious figure who moves through time before he strikes again?.
Slow Horses – (95%/88%) – 1 season, renewed
A team of British intelligence agents is stuck in the dumping ground due to career-ending mistakes in this darkly funny espionage drama starring Gary Oldman.
Little America – (95%/78%), 1 season, renewed
Kumail Nanjiani and Emily V. Gordon, the husband-and-wife writing team that brought us The Big Sick, created Little America, an anthology series inspired by true stories featured in Epic Magazine. Each episode tells intimate, heartfelt stories of immigrants, finding inspiration and humanity at the heart of each. A broad range of both cast and creative help tell the stories, such as the "The Manager," written by award-winning playwright Rajiv Joseph and directed by Deepa Mehta.
Tehran – (94%/91%), 2 seasons, pending
In this espionage thriller from Moshe Zonder (Fauda), a Mossad hacker agent goes undercover on Tehran's dangerous mission. When her mission fails, she becomes trapped in a new life and an operation that puts her, and those close to her, in danger.
For All Mankind – (91%/87%), 3 seasons, renewed
What if Russia had put the first man on the moon? What if the space race continued? These are the questions raised by For All Mankind, a period science-fiction drama from Emmy Award-winner Ronald D. Moore (Outlander, Star Trek, Battlestar Galactica), Matt Wolpert (Fargo), and Ben Nedivi (Fargo). The story follows the lives of NASA engineers, astronauts, and their families through the 1960s and 1970s, the continuation of the space race—and what life might be like if space stayed at the forefront of the American Dream.
The Afterparty – (90%/79%), 1 season, renewed
Everyone is a suspect after a high school reunion ends in murder. As each of the attendees tries to recollect the events of the evening from their perspective, complicated histories and potential motives are revealed–although no one remembers the fateful night the same way.
Dickinson – (75%/90%), 3 seasons, ended
In an exuberant combination of corsets and comedy, Dickinson reimagines the early years of renowned poet Emily Dickinson as a teenage rebellion with a very modern sensibility. Humor and contemporary music interspersed with high-budget production design come together to tell Emily's story from her point of view. Visuals aside, there is no lack of talent in this teen comedy, from Oscar nominee Hailee Steinfeld (True Grit) as Emily herself to Jane Krakowski (30 Rock, Unbreakable Kimmy Schmidt) and Toby Huss (GLOW, Halt and Catch Fire) as her frustrated parents.
The Morning Show – (61%/93%), 2 seasons, renewed
Apple's first big prestige-style series, The Morning Show, launched last November with a slew of heavy hitters but has dropped a bit in both critical and audience favor. The behind-the-scenes drama about a popular morning show hit by a wave of scandal features Jennifer Aniston, Reese Witherspoon, Steve Carell, Billy Crudup, Mark Duplass, Gugu Mbatha-Raw, and Néstor Carbonell. It hit pretty timely buttons of the #metoo movement and felt very headline-ripped at times, keeping that same relevance as the wake of the scandal in season 1 played out over the months and weeks leading up to the COVID-19 outbreak in season 2.
The Last Days of Ptolemy Grey – (88/97%), miniseries
Samuel L. Jackson stars as Ptolemy Grey, a lonely 93-year-old man with dementia. When his trusted caretaker goes away, Robyn, an orphaned teenager, steps in to care for him. When a new treatment is discovered that will fully restore Ptolemy's memories–but possibly only briefly–he uses this temporary reprieve to delve into his past and investigate a long-forgotten family mystery.
Trying– (86%/94%), 2 seasons, renewed
This British comedy follows Jason and Nikki, a couple desperately trying to have a baby from BBC Studios. When they continue to have trouble conceiving, they begin the maze of challenges in the adoption process. Will their chaotic lives and eccentric family and friends help or hurt them on the path to growing up and building a family?
Swagger – (84%/93%), 1 season, pending
The Apple-commissioned drama looks at the world of youth basketball and how young players, their families, and their coaches get swept up in the sports economy. Inspired by the upbringing of NBA Champion Kevin Durant, the drama chronicles the organizations that bring the kids to the game and how invested they and their communities can become.
Schmigadoon! – (88%/82%), 1 season, renewed
In a fabulous send-up of old-school iconic musicals, Schmigadoon! is a new musical comedy series starring Cecily Strong and Keegan-Michael Key as a couple on a backpacking trip designed to reinvigorate their relationship who discover a magical town stuck in a parody of studio musicals from the 1940s–and realize they can't leave until they find "true love."
Servant – (88%/76%), 3 seasons, renewed
After a tragedy strikes the Turner family, the couple struggles to move forward and bring a new nanny, Leanne, into their home. However, she soon discovers things are not as they seem in this psychological thriller series produced by M. Night Shyamalan (The Sixth Sense) and created by Tony Basgallop (What Remains).
Home Before Dark – (80%/88%), 2 seasons, renewed
Inspired by a real-life child journalist, Home Before Dark is a mystery series in which a nine-year-old girl's curiosity uncovers secrets from a long-buried cold case in her father's hometown.
Defending Jacob – (73%/88%), Miniseries
Based on the New York Times best-selling novel of the same name, this thriller follows the story of a family dealing with their son being accused of murder. With strong performances from Chris Evans (Captain America), Michelle Dockery (Downton Abbey), and Jaeden Martell (It), it has been praised for its emotional intensity and ambiguity.
Dr. Brain – (79%/79%), 1 season, pending
The South Korean drama from writer/producer Kim Jee-Woon follows the desperate attempts of brilliant brain scientist Sewon (played by Lee Sun-Kun, Parasite) to discover the truth behind the tragic and mysterious accident that killed his family.
Little Voice – (76%/83%), 1 season, ended
Jessie Nelson and Sara Bareilles, the writing/songwriting team that adapted the beloved indie film Waitress into a popular Broadway musical, are part of the creative force behind this "love letter to the diverse musicality of New York." It's a fresh and hopeful take on having the courage to find—and use—your voice.
The Essex Serpent – (78%/79%), miniseries
The new Victorian fantasy film (split into two pieces as a limited series) stars Claire Danes as the newly widowed Cora, who moves from London to a small village in Essex. She arrives searching for a mythical creature, the Essex Serpent, that local superstition says has returned to the area. Her skepticism and scientific approach bond her with the local vicar (Tom Hiddleston), but she soon becomes the center of the superstition herself when tragedy strikes.
Losing Alice – (77%/76%), 1 season
This psychological thriller follows Alice (played by Ayelet Zurer), a 48-year-old female film director, who feels irrelevant since raising her family. She becomes obsessed with a 24-year-old screenwriter femme fatale, Sophie (played by Lihi Kornowski), after a brief encounter on a train. Her actions lead her to surrender her moral integrity for power, relevance, and success.
See – (63%/86%), 2 seasons, renewed
While critics panned this gritty, sci-fi post-apocalyptic drama, audiences dig it. Is it the plot or the star power of Jason Momoa (Game of Thrones) and Alfre Woodard (Luke Cage)? In a future Earth where a virus wipes out humanity's ability to see, society has restructured and evolved over into a tribal society of hunters. When warrior Baba Voss (Momoa) discovers his twin children have been born with the sense of sight, he must protect them from those who want to destroy it.
WeCrashed – (65%/78%), miniseries
A miniseries based on a podcast about a tech startup scandal, WeCrashed follows the rise and fall of WeWork, an infamously valuable startup, and the couple behind it, played by Jared Leto and Anne Hathaway.
Foundation – (71%/58%), 1 season, renewed
Based on the book series by Isaac Asimov, Foundation is a science fiction series that chronicles the adventures of a band of exiles on a journey to save humanity from destruction.
Oprah is All Over Apple TV +
Oprah, Oprah, and more Oprah. First, there is Oprah's Book Club. Since 1996, the queen of daytime talk has been recommending compelling reads for her audiences, sending nearly 80 titles to the top of best-seller lists. Now Apple brings the literary conversation to its TV, with Oprah hosting in-depth sit-down conversations with her selected books' authors. In The Oprah Conversation, the beloved host sits down (remotely) for extended personal interviews with a series of celebrities and newsmakers, ranging from Stevie Wonder and Mariah Carey to leading writers on racism issues. In Oprah Talks COVID-19, Oprah sits down with experts on trauma, isolation, and racial disparity in the wake of the current pandemic.
Kids Shows on Apple TV
Apple TV+ has been loading up on new kids' programming, from their first slate of nostalgic spin-offs with Snoopy in Space (part of the long-time relationship between Peanuts and NASA to produce this new animated series that follows Snoopy on his dream of becoming an astronaut) to Fraggle Rock: Rock On!, and the Sesame Street spinoff Helpsters, to a new round of shows based on popular kids' books like El Deafo, Harriet the Spy, and Pinecone and Pony. In fact, there are so many, that we're going to dedicate a whole piece to all the kids' programming. Check it out here!
Unscripted Shows and Docuseries
Apple TV+ has also been churning out the docuseries, with a strong look at celebrity life, technology scandals, and inspiring life journeys. Here is a sampling of some of the best docuseries to be found on Apple:
Visible: Out on Television (100%/100%) is a documentary miniseries that features such icons as Neil Patrick Harris, Asia Kate Dillon, Margaret Cho, and more, as they look at the importance of television that has shaped America and the impact on it (and vice versa) of the LGBTQ movement.
Dear… (100%/88%, 2 seasons) tells biographical stories of famous people through letters written by those whose lives have changed and inspired.
Long Way Up (100%/100%, 1 season) follows Ewan McGregor and Charley Boorman on a journey across South and Central America on the backs of prototype electric Harley-Davidsons. This is actually the third in a series of epic adventures, the first two from 2004 and 2007 aired in the UK and are also available on Apple TV+.
Tiny World (100%) is a nature documentary narrated by Paul Rudd (Ant-Mann, get it?), showcasing nature's tiniest heroes and their extraordinary lives.
Prehistoric Planet (100%/95%) showcased the wonder of the world like never before. From Jon Favreau and the producers of Planet Earth, it combines award-winning wildlife filmmaking, the latest paleontology learnings, and state-of-the-art technology to unveil the habitats and inhabitants of ancient Earth.
Lincoln's Dilemna (93%) is a fresh exploration of President Lincoln and the complex journey to end slavery, narrated by Jeffrey Wright, the series is a 21st-century examination of a complicated man and the people and events that shaped his evolving stance on slavery.
1971: The Year That Music Changed Everything (100%/60%) looks at a year of musical innovation and rebirth fueled by the political and cultural upheaval of the early 1970s.
Becoming You (86%) is a global series about child development, exploring how the first 2,000 days on Earth shape the rest of our lives. Narrated by Olivia Coleman and told through the eyes of over 100 children from Nepal to Japan and Borneo, each episode offers a look at how children learn to think, speak and move, from birth to age 5.
The Big Conn (67%/100%) chronicles the doings of Eric C. Conn, a lawyer living large in Kentucky on what turned out to be over $550 million stolen from the government. Two whistleblowers finally discovered he was at the center of the largest Social Security fraud case in history, having stolen over half a billion dollars.
Home (81%) takes viewers into the world's most imaginative homes, exploring the groundbreaking ideas and inspiring stories of visionaries around the globe.
The Me You Can't See (86%/68%) is guided by Oprah Winfrey and Prince Harry, The Duke of Sussex, and brings forth honest discussions about mental health and emotional well-being, sharing stories from a range of celebrities and public figures.
The Problem With Jon Stewart (72%/63%) brings Stewart back to television for deep dives into some of the major issues in today's society, from the causes to possible solutions, and the complicated layers in the middle, complete with his legendary humor and sharp sense of justice.
Original Films
Finally, Apple TV+ has also put together a short but growing list of original films, including several big-name stars and a handful of well-received documentaries.
CODA (94%/90%) is perhaps the biggest name on Applet TV+'s film list, having won three 2022 Academy Awards, including Best Picture. CODA (Child of Deaf Adults) is about Ruby, the only hearing person in her deaf family. The movie has all the trappings of your typical coming-of-age comedy-drama. However, the film surprises you. Ruby has an amazing singing voice her parents, tragically, will never hear. With the family's business struggling, Ruby is torn between staying and following her gift that her family cannot fully experience.
The Elephant Queen (91%/93%) is a documentary film about a matriarch elephant, Athena, leading her family and herd across the African savannah after leaving their watering hole. Chiwetel Ejiofor (12 Years a Slave) narrates the film.
Beastie Boys Story (94%) is a must-see for fans, a documentary by Spike Jonze in which Mike Diamond and Adam Horovitz take viewers on their personal journey of friendship and the band over the last 40 years.
Dads (94%/96%) comes from director Bryce Dallas Howard, herself daughter of Hollywood legend Ron Howard, and explores modern-day fatherhood worldwide. Sharing anecdotes are some of Hollywood's most famous dads, sharing their own experiences and wisdom passed down, including Judd Apatow, Will Smith, Neil Patrick Harris, Ken Jeong, and Jimmy Kimmel.
Boys State (94%), Sundance Grand Jury Prize winner, is a startling look at American political divisions in the next generation. The documentary follows the Boys State program, specifically in Texas, where 1,100 boys from across the state build a representative government from the ground up.
Swan Song (92%/76%) is an examination of life, death, and what we're willing to sacrafice to make a happier life for those we love. In the near future, Cameraon (Mahershala Ali) is a devoted family man who is expecting his second child with his wife Poppy (Naomie Harris). Diagnosed with a terminal illness, he is presented with an alternative solution to sheild his family from the grief of his loss.
The Tragedy of Macbeth (92%/75%). In his first solo directorial outing, Joel Coen (of the Coen brothers) crafts a surrealist, black and white thriller out of one of the most famous ghost stories of murder and madness. Denzel Washington plays the titular Scot, along with Frances McDormand as his Machiavellian wife, who will stop at nothing to see them both rise in power.
The Banker (78%/100%) received a slightly modest critical response but has been a hit with viewers. An "inspired by true events" story of one the first wealthy African American businessmen, The Banker stars Anthony Mackie, Samuel L. Jackson, and Nicholas Hoult.
Greyhound (79%/75%) is a fast-paced WWII thriller starring Tom Hanks as a U.S. Navy Commander guiding an Allied convoy across the Atlantic while pursued by German U-boats, leading to the Battle of the Atlantic, one of the largest naval battles in history.
On the Rocks (86%/50%) stars Rashida Jones and Bill Murray as a New York woman and her larger-than-life father in this comedy from Sofia Coppola.
Bruce Springsteen's Letter to You (94%/83%) follows The Boss reflecting on his life and career while recording with his full band live in the studio for the first time since "Born in the U.S.A."
Need More Information?
If this article didn't answer your specific question, head over to our Home Page! It will guide you to affordable internet providers, streaming services to meet your needs, information on antennas, and many more tools and resources to help you save money on TV and Internet access.
For the latest news tips and tricks on cutting the cord and other tech topics be sure to follow our Google News Feed, like our Facebook Page and Follow Us on Twitter.
Join Millions of Cord Cutters
*
Disclosure: Grounded Reason is supported by a small commission for purchases made through product links on this website. We do not accept compensation from companies attempting to sway our review of products.