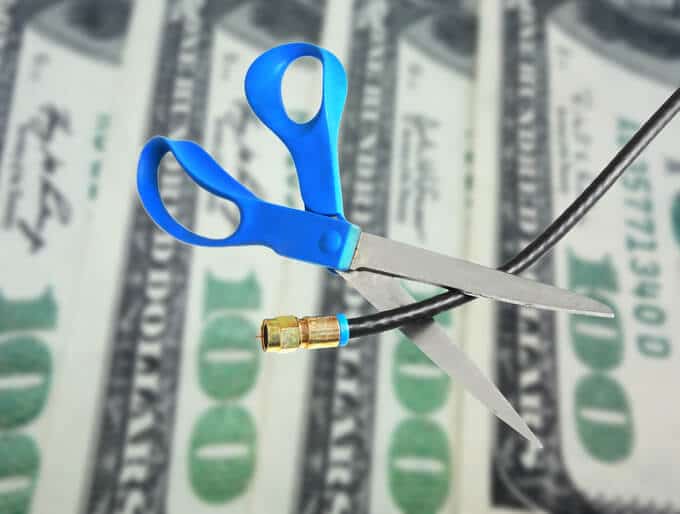 I've been getting a few questions lately on what technologies I've used to cut the cord. In this article, I wanted to go over what I'm currently using to live a cable TV free lifestyle.
Internet and Wifi
The most important piece of the cord cutting puzzle is affordable internet access that will allow you to stream video. I recommend you have a connection that is 25 Mbps or higher. This will allow you to stream maybe 3-4 shows at the same time and still have a little bandwidth left over for streaming the web.
My current internet provider is through Verizon. They have a great deal on Fios Internet plans that provide more than enough bandwidth for a price under $50 per month. If they are not available in your area I put together a list of affordable internet providers in various areas of the country.
For Wifi I use Google's Wifi Mesh Network, but I only recommend an upgrade if you are having trouble with your home wifi network. In most houses, the ISPs Wifi router should suffice. However, if it's not, definitely look into Google's Wifi system.
Over The Air Local Networks
In most parts of the country, you can watch ABC, NBC, FOX, and CBS for free using an antenna. I've put together a very comprehensive guide to choosing the best TV antenna. I personally use a Mohu Sky connected to a Tablo OTA DVR. This DVR allows me to record directly from my antenna and stream it to various streaming devices in the house. I purchased the lifetime guide subscription up front so I don't have to pay a monthly fee.
If you don't want to deal with a TV antenna, there are options that will allow you to stream local broadcast networks.
Streaming Devices and Subscriptions
My favorite streaming device is easily the Roku. I have 2 Roku TCL TVs which are an amazing value. Before we even cut the cord we had a subscription to Netflix and Amazon Prime. If there is a TV show that airs on a cable network I will watch it by purchasing the current season on Amazon. This is how I've watched The Walking Dead without cable since I first cut the cord.
I understand that purchasing a series of shows isn't cost effective at a certain point. Personally, I only care to keep up with about 4 shows airing on cable a year. I can already watch network live, and most other things I stream at my leisure. However, if you need more of a cable feel, there are services that provide that experience via streaming. If this sounds like you I recommend checking out these live TV streaming services.
I also juggle subscriptions to HBO, Starz, and Showtime based on what is airing in a given part of the year. Since streaming services don't have long-term contracts you can save money by picking up a service, binge-watching the shows you like and then dropping the service.
Local Sports
It's fairly easy to watch sports without cable these days. Personally, I keep up with the Ravens, Orioles, and Capitals. Caps games air on Sling TV's Blue package, but you can see how to watch every game through this guide on watching NHL online.
I watch Orioles games using the method I explain in my guide on watching MLB without cable. As for the Ravens, those games are on local OTA networks. If you need help with your local NFL team, check out my guide to watching the NFL online.
Cord Cutting Cost Savings
I just went and priced a cable package that would give me everything I currently watch as a cord cutter. I'm sure you are familiar with this experience, but your actual bill tends to differ greatly from the promo price you signed up for.
The promo price I looked at was for internet and phone with a 2-year agreement for $79.99. That sounds great! However, once I read the fine print things get ugly. There is a $20 price hike in year 2. There are equipment rental fees for HD, a DVR, and an additional TV's. There are about $15 in additional broadcast fees. Ultimately, before taxes that deal becomes an average $150.69 per month over 2 years. That's $3616.56 for internet and phone per year.
Let's look at my cord cutting solution:
I'm about to get internet for $50 per month. That's $1200 over 2 years.
I paid $180 for my Tablo DVR and $150 for the guide so that $330. However, It wouldn't be fair to add that toward the entire cost because it will last well beyond the 2-year agreement with cable. So let's assume the device will last 5 years. That's $66 per year or $132 over the 2 years I'm comparing to cable.
My antenna cost me $120. However, they last a lifetime. So let's just assume a $12 per year cost and add $24 to the cost of the antenna for 2 years.
With the cable package, I assumed I would carry 1 premium channel like HBO at a time. This is what I do with my streaming solution as well. The yearly costs of my premium channels are $120 and would likely be the same with cable TV. Therefore, there is a $240 charge for premium channels over 2 years.
For sports, I pick up Sling TV for 8 months to watch Hockey at $25 per month. That would also cover a ton of other sports. I use MLB.TV for baseball, however, that provides me every single game. That's a lot more content than I'd get with cable. Most people would get their local team with Sling TV, so I'm going to assume a year-long subscription to Sling TV. Over 2 years, that cost would be $600.
Assuming a year-long subscription to Sling TV means I don't need to account for most of the shows I would purchase directly from Amazon. However, to be fair let's assume there are 2 shows I follow not available on Sling TV. Over 2 years that would add an additional $100 dollars.
To recap, my cord cutting costs over 2 years would be.
$1200 for internet
$132 for local channels DVR
$24 for the antenna
$700 for sports and cable shows
$240 for premium channels
The total cost over 2 years is $2296 or $95.67 per month for all my TV and internet needs. That compares to $3616.56 for 2-years of cable TV or $150.59 per month. Therefore, saves me around $55 per month without sacrificing anything I want to watch. It's literally 37% cheaper for me to be a cord cutter. Furthermore, since I have no contract, I could drop services without penalty to save even more money. No matter how you slice it, cable TV is just a bad deal.
Need More Information?
If this article didn't answer your specific question, head over to our Home Page! It will guide you to affordable internet providers, streaming services to meet your needs, information on antennas, and many more tools and resources to help you save money on TV and Internet access.
For the latest news tips and tricks on cutting the cord and other tech topics be sure to follow our Google News Feed, like our Facebook Page and Follow Us on Twitter.
Join Millions of Cord Cutters
*
Disclosure: Grounded Reason is supported by a small commission for purchases made through product links on this website. We do not accept compensation from companies attempting to sway our review of products.