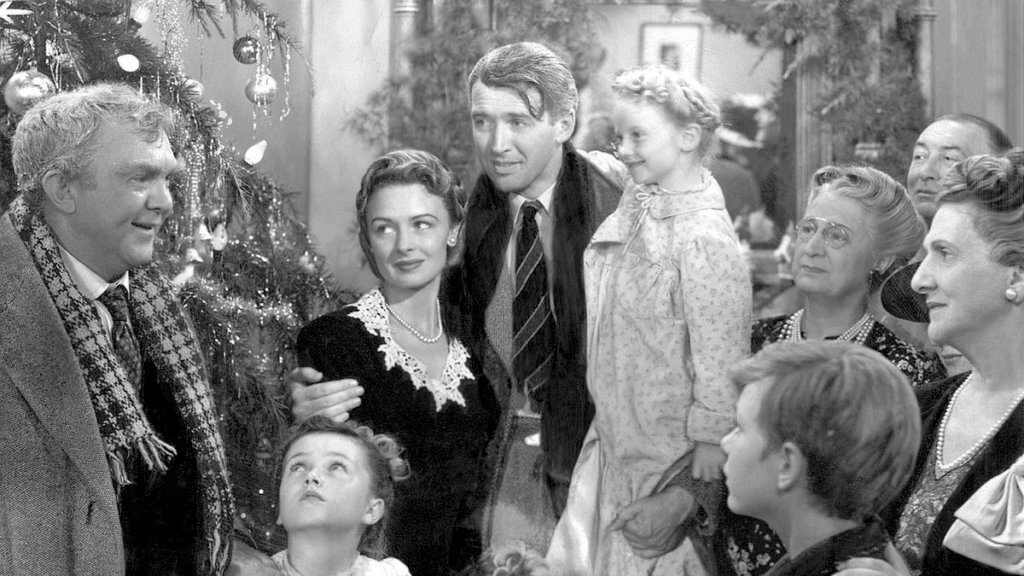 'Tis the season for festive cheer and cozy holiday flicks. We've rounded up a list of the top 25 holiday films that are available on major subscription streaming services or even free (with ad) services so that you can pick your favorite movie and settle in for a watch. In addition, we've added a few bonus categories of films that didn't quite make our top 25, in case you're looking for something more specific, such as romance, horror, or new family favorites.
Films are roughly listed by popularity, overall ratings, and a slight personal bias, but we've included the Rotten Tomatoes score for reference. Many other classics may not be streaming for free/with a subscription, but might be available to rent from sites like Amazon, so we've updated our Holiday Prime Video guide as well with rental options.
The Top 25 Holiday Movies Streaming
1. It's a Wonderful Life(1946) – 94%, on Prime Video, Tubi
While perhaps a divisive title among some, there is no doubt that It's a Wonderful Life is the defining holiday movie and has made a lengthy cultural impression. In a moment of crisis, George Bailey (James Stewart) wishes he had never been born, but an angel (Henry Travers) is sent to show him how the lives of his family and friends would be changed if he had not been present. Available on Amazon in the original black and white and a colorized edition.
2. Miracle on 34thStreet(1947) – 96%, on Prime Video, Disney+, Peacock TV, Fubo, AMC+
This sentimental classic makes for a charming holiday watch. Christmas spirit is put on trial when a big-hearted gentleman hired to play a department store Santa insists he's the real deal, with only a young child's faith in him as a witness. Disney+ also offers the updated 1994 version with Richard Attenborough and Mara Wilson.
3. The Shop Around the Corner (1940) – 100%, on Max
This classic romantic comedy is based on the play of the same name (and the source material for numerous titles, including In the Good Old Summertime, You've Got Mail, and the musical She Loves Me). However, it might be the best of the bunch, with Jimmy Stewart and Margaret Sullivan as a pair of bickering coworkers who don't know they are each other's, secret lonely-hearts pen pals.
4. How the Grinch Stole Christmas (1967) – 100%, on Peacock TV
The eternally beloved story of how a grouchy Grinch has his heart grow three sizes is an annual requirement. The original animated version of the Dr. Seuss book is still the best, although if you're looking to compare, check out our take on all the various iterations.
5. The Nightmare Before Christmas (1993) – 95%, on Disney+
The ultimate cross-holiday movie, The Nightmare Before Christmas is a stunningly original and visually delightful stop-motion classic that takes the residents of Halloweentown into Christmastown (and beyond) in an attempt to hijack holidays. The misadventures of the pumpkin king Jack Skellington make him one of Tim Burton and Henry Selick's most beloved characters.
6. Little Women (2019) – 95%, DIRECTV STREAM / (1994) – 92%, on Prime Video, Paramount+
Both modern versions of this beloved book were top on our list, so we're cheating a little to combine them. Christmas plays a pivotal role in kicking off the life of the March sisters, so no wonder it has landed high on this list. Whether it's the recent remake with its strong cast and smart retelling by Greta Gerwig's, or the charming 1994 version with Winona Ryder and Christian Bale, Little Women is a perennial gift. And, as the book opens, "Christmas won't be Christmas without any presents," sit back and enjoy a few.
7. Meet Me In St. Louis (1944) – 100%, on DIRECTV STREAM
Judy Garland and Margaret O'Brien led this disarmingly sweet musical about a year in the life of four sisters (played by Lucille Bremer, Judy Garland, Joan Carroll, and Margaret O'Brien) in the year leading up to the 1904 St. Louis World's Fair. The film features the iconic performance by Garland of "Have Yourself a Merry Little Christmas."
8. Carol (2015) – 94%, on Tubi, Vudu, Pluto TV, Kanopy
Based on Patricia Highsmith's groundbreaking 1950s novel (The Price of Salt), Carol is a tender and subtle film about the complexities of two women falling in love during an era that rejected homosexuality and trapped women inside of tight social expectations. It stars Rooney Mara as the quiet department store worker, Therese Belivet, who becomes entranced by the elegant older Carol, played by Cate Blanchett.
9. Tangerine (2015) – 96%, on Tubi, Vudu, Kanopy, Fubo, Pluto TV, Freevee
Another one in the growing collection of LGBTQ+ films centered on Christmas time, Tangerine is a comedy-drama that is ultimately about chosen family. The film centers on the crazy misadventures of a transgender sex worker and her best friend seeking revenge on a cheating boyfriend, but it is an old-fashioned comedy at its heart.
10. Die Hard (1988) – 94%, on Starz, DIRECTV STREAM
Yes, we could put this action-packed 1980s classic below in the non-traditional holiday films group, but come on, by now, it is solidly supported by a vocal fan base as a through-and-through holiday flick. Bruce Willis stars as an NYC policeman John McClane who finds himself fending off a terrorist heist, led by a delightful Alan Rickman, in his estranged wife's posh Los Angeles office building during their corporate Christmas party.
11. Elf (2003) – 85%, on Max, Fubo, AMC+
We could go on and on about this good-natured story of Buddy (Will Farrell), a human boy raised to adulthood as an elf in Santa's workshop and the fish-out-of-water delight that comes when he goes to New York searching for his birth father. But, we don't need to; you've probably seen it (and if you haven't, here's how).
12. Arthur Christmas (2011) – 92%, on Max, Prime Video, Hulu
From Aardman Animations, the creators of Wallace and Gromit, comes this clever and emotional holiday film about the year that Santa's high-tech operations mess up and leave one child off the list. Santa's son Arthur is charged with saving the day by making sure the child has a gift by Christmas morning.
13. Klaus (2019) – 94%, on Netflix
From Netflix comes this new classic, a hand-drawn animated film about a reclusive toymaker and selfish postman whose unlikely friendship brings joy to a lonely and desperate small town.
14. The Muppet Christmas Carol (1992) – 76%, on Disney+
It may not be the most refined version of Charles Dickens' tale, but the loveable gang from Henson has made its way into the hearts of audiences, and it is by far the most popular version for today's audiences.
15. A Charlie Brown Christmas (1965) – 83%, on Apple TV+
Christmastime is here. Happiness and cheer. And it's not Christmas without the Peanuts gang. From the ice skating shenanigans to Linus's startlingly charming moment in the spotlight to the breakout dance party, it is required viewing come Christmas time.
16. White Christmas (1954) – 77%, on Netflix
Perhaps not the highest-rated, this overly sweet and joyful holiday favorite is beloved for a reason. With classic Irving Berlin songs and stunning dance numbers, this film about a pair of war veterans-turned-showmen who put on a holiday show at a lonely Vermont inn has charmed generations. Featuring stellar performances by Bing Crosby, Danny Kaye, Rosemary Clooney, and Vera-Ellen.
17. Edward Scissorhands (1990) – 90%, on Disney+, Prime Video, Roku Channel, Fubo, AMC+
The magical gothic fairy tale that is Edward Scissorhands is also the debut of a fruitful creative partnership between Johnny Depp and Tim Burton. Built by a lonely scientist who died before he could give him hands, gentle Edwards stumbles out into the world with scissors as stand-ins. Despite his eerie appearance, his heart is good, and he finds friendship and love in the real world.
18. Jingle Jangle: A Christmas Journey (2020) – 89%, on Netflix
Last year's standout new arrival, Jingle Jangle is an exuberant magical musical journey about creativity, intelligence, and curiosity. The story focused on a once joyful toymaker who begins to see a spark of hope again when his granddaughter enters his life.
19. A Christmas Story(1983) – 89%, on Max, TBS/TNT
The darkly humorous nostalgia classic, A Christmas Story chronicles the awkward exploits of Ralphie, who just wants a Red Ryder range-model BB gun for Christmas. Things don't go so smoothly for poor Ralphie. Bonus, this year the long-awaited (by nearly 40 years) sequel has arrived, A Christmas Story Christmas.
20. A Christmas Carol (1951) – 85%, on Plex
While there are many versions and remakes of the classic Dickens' tale, the 1951 adaptation of the timeless classic, with Alastair Sim as Scrooge, is perhaps the most faithful film version and is considered the best version by many fans and critics alike.
21. The Man Who Invented Christmas (2017) – 79%, Starz, Hoopla
Dan Stevens (Downton Abbey) stars as Charles Dickens in this rather sweet but revisionist tale of the magic behind the yuletide classic A Christmas Carol. The story focuses on Dickens' struggle to create something as he lands in financial trouble following three unsuccessful novels in a row. But the magic of Christmas will find him yet.
22. The Bishop's Wife (1947) – 84%, on Prime Video, Roku Channel, Kanopy, Tubi, Vudu
A charming cast of classic film stars helps keep this story popular, including Cary Grant, Loretta Young, and David Niven. An angel in human form helps restore order to the life of a bishop struggling to build a new cathedral and save his fractured marriage. Slightly less well rated but a solid fan favorite is the 1996 remake, The Preacher's Wife (Fubo), starring Denzel Washington Whitney Houston.
23. Merry Christmas / Joyeux Noël (2005) – 74%, on Tubi
French, German, and Scottish troops are gathered on the fields of World War I. Men in the trenches of the Western Front have a brief moment of peace, goodwill, and humanity as they call an unofficial truce and pause to break bread and share hope on Christmas, 1914.
24. The Best Man Holiday (2013) – 70%, on Peacock TV, DIRECTV STREAM
A mix of laugh-out-loud humor and heartwarming drama help keep this reunion flick above conventional, as college friends from The Best Man (1999) reunite nearly 15 years later to celebrate the holidays together.
25. Scrooged (1988) – 69%, on Prime Video, Paramount+
This rather dark(er) take on the classic A Christmas Carol remains on top lists due largely to a memorable performance by Bill Murray. As a cranky, mean-spirited television executive, Murray is faced with the ramifications of his actions through a series of supernatural visits on Christmas Eve.
26. Love Actually (2003) – 63%, Peacock TV, Fubo, AMC+
Whether you love it or hate it, Love Actually no doubt made a cultural impact when it came to modern Christmas movies. For many people, it is still a must-watch seasonal film of love and loss, with the classic British heart that Richard Curtis brings to many of his films. There is the classic ensemble cast of recognizable stars, multiple story lines that all interweave and eventually connect on Christmas, and a bevy of moments that make you laugh, cry, and warm the heart.
New Family Favorites
The Christmas Chronicles (2018) – 68%, on Netflix
A fresh take on the holiday family movie, The Christmas Chronicles (and its sequel) introduced audiences to a new Santa in the form of Kurt Russell. When they accidentally crash Santa's sleigh, a pair of siblings are in for a magical all-nighter helping St. Nick to save Christmas.
Lego Star Wars Holiday Special (2020) – 73%, on Disney+
While reviews were mixed, this new special did overall okay for fans of both the Star Wars franchise and the Lego movies. The film reunites characters from the most recent trilogy of films as they celebrate a joyous feast (not unlike Christmas).
Complex Family Dynamics
Happy Christmas (2014) – 75%, on Starz, Hoopla
This quirky, low-key comedy about families reconnecting brings a troubled party girl (Anna Kendrick) crashing back home to hang with her sibling's family for the holiday. Co-starring Melanie Lynskey, Mark Webber, and Lena Dunham.
A Christmas Tale (2008) – 86%, on AMC+
An impressive ensemble cast helps make this black comedy about a chaotic family gathering fascinating and worth sticking with. The plot centers on the French matriarch (Catherine Deneuve ) of a large family who gathers them together for the holiday after she learns she has cancer.
National Lampoon's Christmas Vacation (1989) – 67%, on AMC+, Max, Fubo
While not the most disciplined comedy, this family classic has enough laughs and good cheer to make it fun, as you laugh at the Griswold family's attempt to have a perfect Christmas.
Need More Holiday Romance?
Single All the Way (2021) – 69%, on Netflix
Okay, maybe it's too soon to tell, but this latest entry in the LGBTQ+ rom-coms, starring Michael Urie and Philemon Chambers, has charmed audiences and made it a top 10 viewing for Netflix.
Happiest Season (2020) – 82%, on Hulu
While the idea of a longtime lesbian still in the closet with her family is a frustrating trope for 2020, there is no doubt that the charm of the cast and heart-warming holiday cheer of Happiest Season help to make it a new holiday favorite and a strong contender in the growing LGBTQ+ holiday romance film genre.
While You Were Sleeping (1995) – 81%, on Disney+
Lonely transit worker Lucy Eleanor Moderatz (Sandra Bullock) pulls her longtime crush, Peter (Peter Gallagher), from the path of an oncoming train—and somehow in the chaos gets herself confused for his fiancé, a mistake she isn't too quick to correct. However, while her "betrothed" is in a coma, she meets his gregarious brother (Bill Pullman) and real sparks fly.
Let it Snow (2019) – 81%, on Netflix
A snowstorm shuts down a small midwestern town on Christmas Eve, where a group of high school seniors are snowed in together, impacting friendships, romances, and more.
Anti-Christmas Holiday-set Films and Horror Flicks
Rare Exports: A Christmas Tale (2010) – 90%, on Hulu, Fubo, Kanopy, Tubi, Peacock TV,
Deadpan comedy meets holiday horror in this Finnish action film in which a drilling excavation leads to a gruesome discovery and a whole new meaning to the secret of Santa Claus.
A classic horror or a statement on consumerism, Gremlins holds a special place in popular culture. Every kid of the 1980s knows the rules for the adorable little mogwai creatures and the consequences of breaking those rules that lead to the havoc-wrecking gremlins.
Anna and the Apocalypse (2017) – 77%, on AMC+, Pluto TV, Kanopy, Hoopla
A musical Christmas zombie movie? Anna and the Apocalypse is a fun, over-the-top romp in which a group of Scottish high schoolers must help defend their town from a Christmas zombie outbreak. In song. The fun mashup is full of original tunes and surprisingly talented teens, not to mention classic blood-splattering zombie attacks.
Better Watch Out (2016) – 89%, on AMC+, Tubi, Vudu, Fubo, Peacock, Shudder, Hoopla
A babysitter defends her twelve-year-old charge from a home invasion that turns out to be far from every day in this adorable yet sinister holiday horror film.
Bad Santa (2003) – 78%, on Showtime, Fubo
Billy Bob Thorton and Tony Cox play professional thieves posing as a mall Santa and his elf to knock over the stores at night in this gleefully rude black comedy. While not for everyone, it has an audience, having stayed a popular watch and garnered a sequel.
Need More Information?
If this article didn't answer your specific question, head over to our Home Page! It will guide you to affordable internet providers, streaming services to meet your needs, information on antennas, and many more tools and resources to help you save money on TV and Internet access.
For the latest news tips and tricks on cutting the cord and other tech topics be sure to follow our Google News Feed, like our Facebook Page and Follow Us on Twitter.
Join Millions of Cord Cutters
*
Disclosure: Grounded Reason is supported by a small commission for purchases made through product links on this website. We do not accept compensation from companies attempting to sway our review of products.