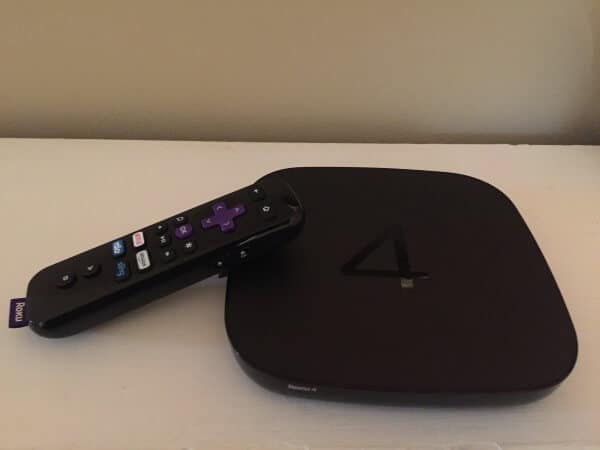 If you are new to steaming TV, you may want to check out what a Roku box is. Then, come back and check out my review of the Roku 4.
Readers of this site know  I recommend different streaming devices based on a persons preference. If you are heavily invested in the Apple Eco-System, you should get an Apple TV. If you love Amazon Prime or like to experiment with streaming technology, go with the Fire TV. Everyone else on the planet should get a Roku.
Any of these devices will provide are suitable for watching TV without cable. However, Roku has just released their Roku 4 streaming device, just in time for the holidays. Let's see if there is finally one streamer to rule them all.
What's New with Roku 4
Roku has put a lot of effort into setting the Roku 4 apart from the previous three Roku iterations. It supports 4K video, looks completely different from the Roku 3, and has had a hardware and operating system overhaul.
Roku 4's New Look
The Roku 4 looks vastly different from its predecessors.  Its official dimensions are 8.2 inches wide, by 8.2 inches long. While its thinner (only 2.7 inches high), it leaves a footprint 2-3 times larger than the Roku 3.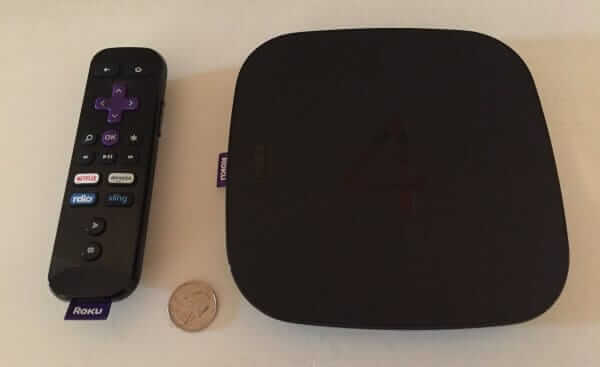 Other than the size, it has all the other trappings of past Roku streamers. It has a flat textured top with glossy rounded corners. It's black, so it will fit the décor of most things found in an entertainment center.
New Roku 4 Hardware
Roku has outfitted the Roku 4 with a new quad-core processor and has tripled its predecessor's memory with 1.5GB of RAM. This adds noticeable zip when navigating the user interface.  It still only has 256 MB for app storage, but a Micro SD card slot allows for adding more storage if required.
Roku 4 also introduces support for 802.11ac MIMO Wi-Fi. If you have a router that supports 802.11ac, this will greatly improve the network speed, and potentially your streaming experience.
No More Lost Remotes
By far, my favorite hardware addition Roku has added is the remote finder button. Can't find the remote? Simply push the remote finder button atop the Roku 4, and your remote will begin chiming to alert you to its presence.
Roku Software Improvements
Roku has also upgraded to Roku OS 7, along with  vastly improving cross platform search, voice search, and other software features.
Cross Platform Search
While previous iterations possessed this functionality, it always felt a bit limited. Now when you search for an actor or title, it searches about 20 apps and tells you which apps have the show available. Furthermore, Roku indicates whether you have free access to it through a subscription, or have to rent or purchase the program.
As of this post Roku cross platform search supports Acorn TV, Amazon Video, Blockbuster On Demand, CBS All Access, CinemaNow, Crackle, Fox Now, FX Now, HBO GO, Hulu, M-GO, Met Opera On Demand, Nat Geo TV, Netflix, Popcorn Flix, SnagFilms, STARZ PLAY, Time Warner Cable, Tubi TV, and VUDU.
Voice Search
The voice search functionality is top notch. While experimenting with the feature, Roku 4 was able to find well known movies and TV shows  about 90% of the time.
I found when issues occurred, it was due to the way the movie is titled as opposed to Roku understanding my voice. For example, I would say "The Avengers", but the live action blockbuster could not be found. However, if I said "Marvel's The Avengers", Roku 4 knew exactly what I wanted.
Roku My Feed
Roku also has improved the functionality of "My Feed."  Simply follow your favorite show and Roku will let you know when a new episode is available.  Say goodbye to constantly checking various apps to see if the new episode of your favorite TV show is now available.
The Roku App
The new mobile app is also vastly improved. Previously the Roku app was nothing more than a remote control on your mobile device.  Now all the power of the Roku operating system is available in the app.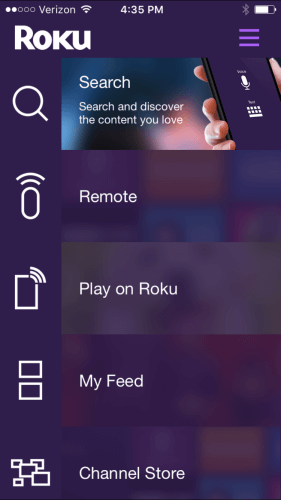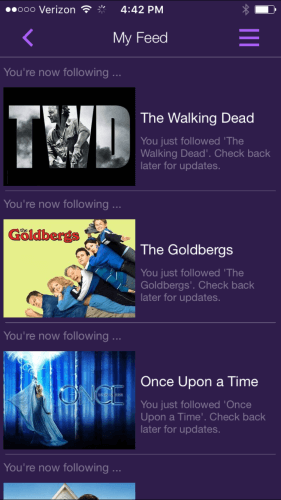 You can search by voice or text, access "My Feed", and install apps on your Roku 4 by using the new Roku app. If you aren't a fan of the voice search or typing long search strings with the remote, the Roku app gives you access to a full keyboard.
Currently, your mobile device needs to be in proximity of the Roku 4 to access "My Feed." However, Roku has indicated that they are looking to make the functionality available when you are away from home.
4K Support
If you already have a streaming device, the biggest reason to buy the Roku 4 is the 4K video support (also known as Ultra HD 4K). Where 1080p supports 1920 by 1080 pixels strewn across your TV, 4K video can display 3820 by 2160 pixels. That's four times as many pixels!
However, that does not mean you should set your 70 inch 1080p HDTV on the curb for Saturday scavengers. 4K video is still in its infancy. For the foreseeable future, devices supporting 4K video will also support lower resolution video.
Enjoying 4K video on a Roku 4 requires both a TV and content  that supports 4K Ultra High definition. Furthermore, you need to make sure your 4K Ultra HD TV supports HDCP 2.2.
HDCP stands for High-bandwidth Digital Content Protection. It's a copy prevention technology used on HDMI connections. HDCP 2.2 is quickly becoming the new standard. Don't confuse this with HDMI 2.0.  Modern 4K devices should be HDMI 2.0 and HDCP 2.2.
It's important to know this because if any device involved in getting 4K video to your TV is HDCP 2.2, then they all need to be. Otherwise, the picture will show in 1080p.  This includes Blu-ray, tuners, and DVRs that may be a part of your entertainment system.
To know if a device supports HDCP 2.2, you will typically need to check the manufactures websites. I've noticed that retailers aren't even posting the HDCP specifications on the spec sheets displayed in stores.
A good rule is top-tier TVs made after February 2013 will most likely support HDCP 2.2.  Of course, it's always better to check with the manufacturer to be sure, and always be wary of deals that seem a little too good.
Will You Need a New HDMI Cable?
Unfortunately, the Roku 4 does not include an HDMI cable. Don't be fooled by marketing gimmicks, your old HDMI cables should work just fine on the 2.0 standard.
I hedge a little and say "should", because it's possible you previous cable wasn't fully up to the high speed specification.  If you want more information, here is a great article explaining HDMI 2.0 and why you won't need new 4K cables.
The Roku You Know
Roku 4 adds all these features and takes nothing away. All the function of the Roku 3 is available with the Roku 4. It still has on-board Ethernet for those wanting a wired network connection. The Micro SD storage expansion is right where it has always been. They even left the Optical Audio port for those with a home theater configuration.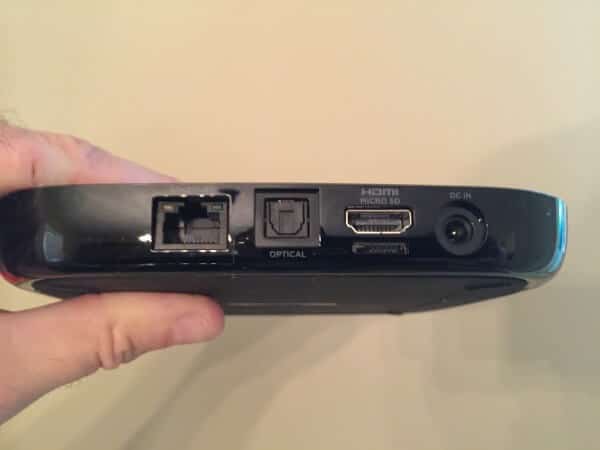 Everything you loved about the Roku 3 is available to you with the Roku 4. With the exception of much better performance, the UI is what you've been accustomed to.
Roku 4 Setup
Installing the Roku 4 is no different then installing any other Roku.  First, connect the Roku 4 to your TV using an HDMI cable (not included). If you like, you can hook the Roku 4 to your network using an Ethernet  cable. Otherwise, you can connect to your WiFi network later in the setup.
Next, power the device the device. While you wait for the Roku logo to appear on your television, put the included double A batteries in the Roku Remote.
After the welcome screen, simply select a language and follow the onscreen instructions.  If you aren't using Ethernet, Roku will walk you through connecting to your WiFi network.
I recommend using an 802.11ac wireless connection, especially if you plan on watching 4K video.  I go into detail on why in this post on affordable 802.11ac routers.
If you are interested in a more detailed walk through, Roku has a detailed Roku 4 Setup Instructions on their website.
Roku has  a wide array of over 1800 channels available.  They have popular services like Sling TV, but they also have fantastic niche services.  To get an idea of what I mean, check out my review of ConTV, which offers live stream of Comic Book Conventions, along with full length Anime, Sci-Fi, and Horror movies.
At the end of the setup, you will have the option to add any channels you like from the Roku store.  If you are not sure what to add, don't worry.  You can always add more channels later. Below is a glimpse of the other channels Roku provides.
Movies and TV:  Netflix, Hulu Plus, Amazon Instant Video, Sling TV, VUDU, M-GO, Disney, PBS, HBO GO, Crackle TV, PBS, Google Play Store and more
News:  CBS News, Fox News (very limited), Sky News, The Blaze, Weather Nation, and more
Sports: MLB.TV, NBA League Pass, NHL Game Center, NFL Now, WatchESPN, WWE Network, Dishworld Sports, UFC Online, and more
Internet: YouTube, Break, Vimeo and countless niche channels
Plex: Roku supports Plex Media Server with an official Plex channel. I recommend picking it up if you are interested in streaming your own media.  It's easily the best way to view personal content on a Roku device.
Is Roku 4 Worth Buying?
Roku 4 is currently the best streaming device on the market. That said, it's $129 making it almost $30 more to the Amazon Fire TV.  However, it's cheaper than the new Apple TV, which doesn't even support 4K video.
If you already own a streaming device, and don't have a 4K television, then there is little reason to shell out $130 for the Roku 4. However, if you don't have a streaming device, or need one that supports 4K video, then the Roku 4 is the one to buy.
That said, if you love Amazon Prime, or what to save $30, the Amazon Fire TV is a perfectly fine streaming device, that just gets edged out by the Roku 4.
If you enjoyed this review and want to purchase the Roku 4, please do so using this
link to Roku 4 on Amazon.com.  Purchases made through the link supports this site with no added cost to you, allowing me to write more reviews like this one.
Need More Information?
If this article didn't answer your specific question, head over to our Home Page! It will guide you to affordable internet providers, streaming services to meet your needs, information on antennas, and many more tools and resources to help you save money on TV and Internet access.
For tips and tricks on cutting the cord and other tech topics be sure to join our Facebook Page.
Join Millions of Cord Cutters
Disclosure: Grounded Reason is supported by a small commission for purchases made through some product links on this website. We do not accept compensation from companies attempting to sway our review of products.