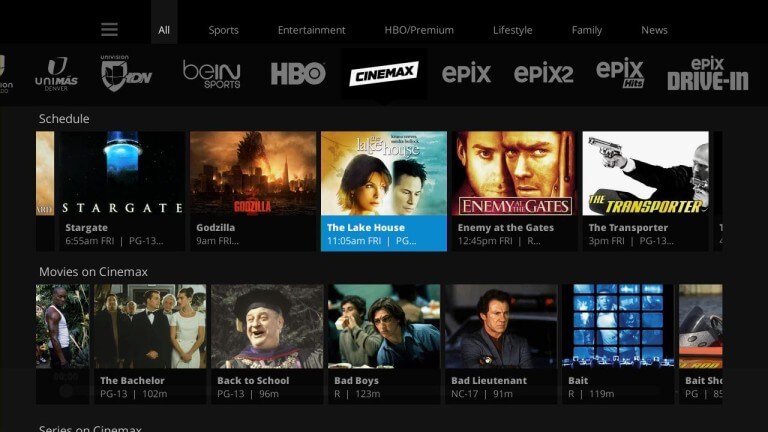 Fans of soft-core can rejoice, Cinemax has finally joined the likes of HBO, Showtime, and Starz by offering their services to those without satellite or cable TV.  Following in the footsteps of HBO,  customers of Sling TV now have the option of adding Cinemax as an add-on to their base subscription.
According to a recent announcement from Sling TV, customers with the "Best of Live TV" or one of the Sling International base packages can add Cinemax a la carte for an additional $10 per month. This entitles subscribers to the same live content airing on cable TV, along with the on-demand content currently available through MAX GO (The cable providers internet streaming package).

While mostly known for it's popular "After Dark" content (by a large silent majority), it has also broken into the original content business with series like "Strike Back," "Hunted," "The Knick," and "Banshee." The network has also announced that it will be releasing two new shows, "
Quarry
" and "
Outcast
."
Aside from Cinemax original, subscribers will be able to stream a fairly large movie catalog online. Counting both movies and TV shows, subscribers will have hundreds of entertainment options to choose from.
This is the third premium network available through Sling TV as customers with a base package can subscribe to HBO for $15 per month, and EPIX is available through the "Hollywood Extra" $5 add-on package.
How to Watch Sling TV
Sling TV is an online streaming service which allows live streaming of channels of channels formally only available to cable and satellite TV subscribers. The service can be streamed to your TV with an over the top streaming device like Roku. Those without a streaming device can watch on their computer browser.
However, Sling TV offers free and discounted Roku devices when signing up for three months of service. There is also an option to check out the base service free for 7 days.
For more information, check out my review of all the channels available on Sling TV.

Dennis is the editor in chief at Grounded Reason. Before writing about using technology to save you money he spent 20 years working in Information Technology.

Latest posts by Dennis Restauro (see all)
If you enjoyed this article, please subscribe to our weekly newsletter!. It's free and goes out every week to keep you up to date on articles we publish to Grounded Reason. Subscribing will also inform you on the latest deals out there for internet, streaming, and more.
Check Out These Hot Articles!