Dennis is the editor in chief at Grounded Reason. Before writing about using technology to save you money he spent 20 years working in the tech sector as a sysadmin, an analyst, and an enterprise architect.

Latest posts by Dennis Restauro (see all)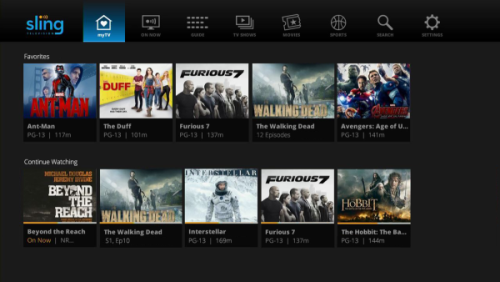 Sling TV unveiled it's new user interface Tuesday at the 2016 CES trade show in Las Vegas.  Parent company Dish was the bell of the ball at CES last year when it unveiled Sling TV, offering many cable networks through the streaming service.
This year at CES Sling TV announced a new user interface that focuses more on the shows you watch as opposed to the channels they're on. While Sling TV is a great product, the UI has been the complaint of many users. Sling TV has heard their customers, and focused their efforts on overhauling the user interface.
Sling TV On-Demand
The new interface greets users with a "myTV" menu instead of the "channel selector" we're used to. The myTV menu displays the viewer's most-watched shows and channels. The "on Now" live channel menu is still the cornerstone of the service as watching live TV online is what sets Sling apart from other streaming services. However, the streaming services has put more focus to it's on-demand content.
The myTV menu will also let users mark their favorite shows so they appear in the myTV menu. That means you will never have to search for the new episode of The Walking Dead or Better Call Saul ever again.
This is the right move for Sling TV.  Prior to this update, the on-demand content was difficult to find. This was a big problem for a service that offers the entire HBO library on-demand. This interface update will remedy that and provide a way to find the shows we watch instead of the channels offered.
This is great for cord cutters, like myself, that concentrate more on the content we watch instead of channels. I couldn't tell you half the networks the shows I watch are on.
In addition to the improved content search and navigation, the Sling TV app will provide a more personalized user experience. Shows will be suggested based on customer's previous selections, time of day, and popularity.
More Channels
Sling TV also announced the addition of ESPN 3 to it's standard "Best of Live TV" lineup at no added cost for the service. The service offers over 20 top cable networks for only $25 per month with no contract.
ESPN 3 will be available later this quarter, while a phased roll out will begin deploying the updated user interface later this quarter as well. Seeing Dish dedicate so much of it's resources to Sling TV indicates that they are embracing the future of TV, and welcome the cord cutting revolution.
If you are interested in trying out Sling TV, you can sign up for their Roku offer where you pay for 3 months of service and get a free Roku 2, Roku Streaming Stick, or 50% off a Roku 3. Sling TV also offers a free 7 day trial to try their service.
Need More Information?
If this article didn't answer your specific question, head over to our Home Page! It's designed as a guide to our most important articles to help you ditch pay TV.
For tips and tricks on cutting the cord and other tech topics be sure to join our Facebook Page and follow us on Twitter @Grounded Reason.
Grounded Reason Top Deals of The Month
When you subscribe to Verizon Fios Gigabit Internet you get a $100 Visa® Prepaid Card, your first month of YouTube TV covered, and an entire year of Disney+ on Verizon!!! Check out this Amazing Offer!
With 58 live channels and a cloud DVR for just $20 per month, Philo TV is one of the best deals you 'll find online. Try a Free Trial to Philo Now! No credit card required!
Join Millions of Cord Cutters
Disclosure: Grounded Reason is supported by a small commission for purchases made through some product links on this website. We do not accept compensation from companies attempting to sway our review of products.